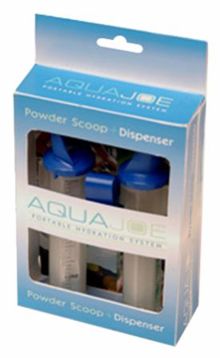 Aqua Joe Portable Hydration System Sport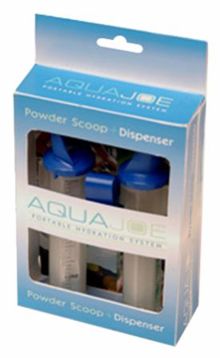 Aqua Joe Portable Hydration System Sport
AquaJoe can turn water into your favorite beverage quickly and easily; on the course, at work or in your home. AquaJoe can be used with all sports drink powders, flavored drink powders, nutritional supplement powders, infant formula powders* and energy drink powders.
Who Uses Aqua Joe?
Runners & Cyclists - As an athlete, your body is a finely tuned engine. Like an engine you need constant fueling to achieve peak performance. AquaJoe lets you hydrate where it matters most; at the track or on the course. You supply the water we'll do the rest! The AquaJoe is designed for athletes. With the included carrying clip the AquaJoe can be easily secured to any hydration pack or hydration belt. It will be your sports bottle's best friend!

Conservationists - Beverages have one of the largest carbon footprints of all consumer products. Beverages are one of the only products that increase in size and weight as they go through the manufacturing process. AquaJoe is the ideal replacement for single serve drink packaging. Remember to leave the liquid and take the powder! AquaJoe is your sustainable solution.
Key Features
Re-usable
Compatible with all sports bottles and water holders
Use your AquaJoe in place of juice boxes and other single serve drink packaging
Eco-friendly retail packaging
Encourages use of tap water
Clips to your belt
Fitness Enthusiasts - Whether you're at the gym or at home, AquaJoe can turn milk or water into your favorite supplement. Put a few AquaJoe's in your gym bag or in your locker. With AquaJoe you can have your protein shake at work, at school or on the road. Aqua Joe is your workout buddy.