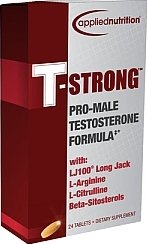 Applied Nutrition And Science T-Strong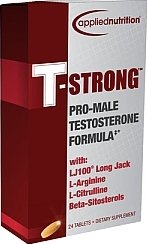 Applied Nutrition And Science T-Strong
Pro-Male Testosterone Formula* with:
LJ100 Long Jack
L-Argine
L-Citrulline
Beta-Sitosterols
This product is designed for men of all ages. It supports healthy testosterone and addresses the decrease in sexual function associated with aging.*
At the center of this formula is LJ100 Long Jack, a patented extract standardized to 40% glyco-saponins and 22% eurypeptides. Preliminary research suggests that LJ100 Long Jack, helps maintain testosterone levels already within the normal range.*
This formula also includes: L-Arginine, L-Citrulline, CoQ10, Beta-Sitosterols and Zinc to support overall male health.*
* These statements have not been evaluated by the Food and Drug Administration. This product is not intended to diagnose, treat, cure, or prevent any disease.