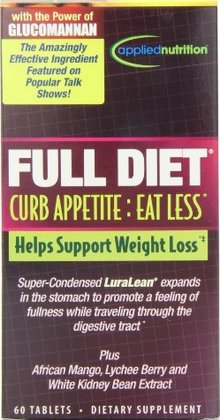 Applied Nutrition And Science Full Diet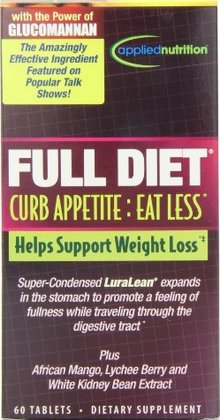 Applied Nutrition And Science Full Diet
Applied Nutrition Full Diet Description
The Smart Way to Diet!
Expands in the Stomach
Feel Full: Eat Less
Super-Condensed LuraLean Expands in the Stomach to Promote a Feeling of Fullness While Traveling Through the Digestive Tract
Full Diet is a multi-benefit product that can easily be incorporated into your daily diet. It not only helps to curb your appetite, but also supports numerous factors that are important to overall health: It can help you:
Eat smaller meals, while feeling satisfied
Maintain healthy blood sugar levels already within a normal range
Reduce the absorption of high-calorie dietary fats
Maintain healthy cholesterol levels already within a normal range
Meet your daily requirement for fiber
Full Diet is more than just a "diet" product...it is a whole-body approach to better health.
Feel Full: Eat Less
This breakthrough product can help you achieve your weight loss goals. It has been scientifically formulated to "turn-on" satiety before meals. By promoting a pleasant feeling of fullness, Full Diet can help you eat less food and consume fewer calories - without feeling hungry.
Super condensed LuraLean is at the center of this amazing formula. LuraLean is a glucomannan fiber derived from the Japanese Konjac plant. When taken 45 minutes before a meal, this ingredient swells and expands up to 200 times its original size to induce a feeling of fullness while traveling through the digestive tract. Studies show that LuraLean is a powerful dietary companion that supports healthy weight management. For best results, use in combination with a reduced calorie diet and exercise.
Directions
(Adult) Take three (3) tablets twice daily, 45 minutes before two of your largest meals, with a full glass of water. Taking this product without adequate water may cause choking.
Disclaimer These statements have not been evaluated by the FDA. These products are not intended to diagnose, treat, cure, or prevent any disease.