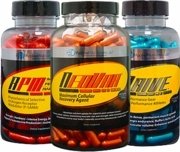 Applied Nutriceuticals Ultimate Anabolic Stack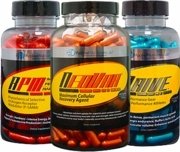 Applied Nutriceuticals Ultimate Anabolic Stack
Stack Includes:
RPM, 240 Capsules
NeoVar, 240 Capsules
Drive, 240 Capsules
RPM the first and only anabolic pre-workout in a capsule. When it was originally launched, it pioneered a new trend in natural supplements…the P-SARM (Phytochemical Selective Androgen Receptor Modulator). P-SARMs mimic the benefits of testosterone without the negative side effects. RPM is a one of a kind formula that combines those benefits plus gives you explosive energy, crisp mental focus, noticeable strength increases - all while promoting insane pumps and volume!

NeoVar is a blend of strength and recovery-boosting compounds (creatine monohydrate and creatine phosphate) plus potent nutrient repartitioners that work synergistically to give you voluminous pumps and muscle volume that no product ever has been able to do.

Drive is the most versatile performance-enhancing sport supplement available. In fact, it does so much, it's impossible to categorize in one, or even two or three product categories. Originally conceived to be a stimulant-free pre-workout, it "grew legs" during the development phase and became so much more. Drive creates an extremely anabolic environment through a variety of different bio-chemical mechanisms, including cGMP and cAMP synergism, increased thyroid activity and SHBG inhibition, and promotion of luteninizing hormone activity, just to name a few.
To view supplement facts for RPM, 240 Capsules, click here.
To view supplement facts for NeoVar, 240 Capsules, click here.
To view supplement facts for Drive, 240 Capsules, click here.

Note: Manufacturers continually change product specifications. While we try our best to keep product descriptions up to date, they do not necessarily reflect the latest information available from the manufacturer. We are not responsible for incorrect or outdated product descriptions and/or images.

These statements have not been evaluated by the Food and Drug Administration. This product is not intended to diagnose, treat, cure, or prevent any disease.