Warning: This product is not currently available at any store.
Click the button above and PricePlow will email you when the first store has it in stock!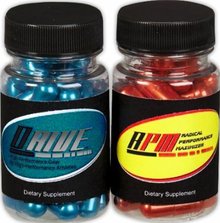 Applied Nutriceuticals RPM/Drive Stack
RPM
Goals. We all have them. But what truly is a goal. Webster dictionary defines goal as: 1. The end toward which effort is directed 2. The terminal point of a race. When we think of our goals we think of how quickly can we accomplish them. Whether your goal is losing a few pounds, increasing performance, or bursting through a new plateau, we all want to race to the finish line. Unfortunately, we all have lives and sometimes life gets in the way and knocks us out of the race. We seek out products that make claims that will help us reach our goals and reach them quickly. However, we find only once again we have lost our hard earned dollars and have become no closer to the finish line. Well, not anymore!
Applied Nutriceuticals has the answer to putting you back in the drivers seat and racing towards your goal at speeds you never thought possible! Finally there is a product that makes every day..Race Day! That product is RPM from Applied Nutriceuticals. What is RPM? RPM is an exclusive formula that supports explosive energy, crisp uncanny mental focus, noticeable strength increases, all while promoting insane pumps, and increased testosterone support!!!*
Drive
Drive by Applied Nutriceuticals is simply one of the most versatile performance-enhancing sports supplement available. Drive provides the goods to help you get you to your goals. The synergistic compilation of constituents contained in this unique compound supports a very favorable anabolic environment through a variety of different mechanisms.*