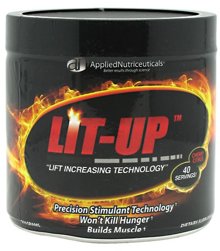 Applied Nutriceuticals Lit-Up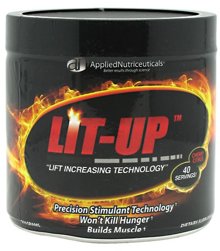 Applied Nutriceuticals Lit-Up
Light the Fuse with LIT-UP!
The future of pre workout supplements has arrived – Lit Up by Applied Nutriceuticals
Pre workout formulas are all pretty much the same: insane energy, increased pump and vasodilation, and small strength increases. They all have the same ingredients and none have any real anabolic effects. So what's the result? You get jacked up, then let down and you're right back where you began but now you're 1) over-stimulated and strung out; 2) you can't eat so you're hungry, and 3) in a catabolic state because you did not get the nutrients needed for recovery and growth.
So what's the answer? A pre-workout drink that provides tons of energy, pump, focus and so on, no strung-out feeling and loss of appetite. Then add-in clinical doses of ingredients that support maximum levels of testosterone and will actually build muscle and increase strength. That's what this product is all about…
PRODUCT FEATURES:
• Specific energy delivery that promotes increased focus, neuromuscular strength and muscular endurance
• Supports increased testosterone production resulting in long-term increases in lean body mass and fat reduction.
• Positive mood- support
• Improved joint health
The Difference between Lit-Up and Other Pre-Workout Supplements
Does Not Contain Harsh Stimulants: Most current products contain the stimulant 1,3 dimethylpentylamine. Use to much of this and similar stimulants and you may block the growth potential stimulated by your workout due to suppressed appetite during the post-workout anabolic window; not to mention you "burn out" way to soon while training even though you feel"wired". This can mess up the best training programs and discourage the most hardcore trainers.
Specific Energy Timing: Does your stomach wind up in knots at the end of your workout? Do you find it difficult to eat because the pre-workout drink you used has you really jacked up? By the time you calm down, you've missed the anabolic, post workout window. LIT-Up features a strong, natural stimulant profile that provides clear focus and impressive energy when you need it without overwhelming the adrenal glands or suppressing hunger.
Enhanced NO Pathway: By promoting stronger stimulation of target androgen receptors, Lit-Up takes the Nitric Oxide (NO) pathway to a new standard. This formula also uses a special nootropic/stimulant blend for a strong mind-muscle connection. As well, this product promotes neuromuscular strength.
Here's the deal. You can train like you're on crack and make no real progress, or you can train hard, train smart and grow like a weed. What's it going to be?

Supplement Facts
Serving Size: 1 Scoop (4294mg)
Servings Per Container: 40
Amount Per Serving

Synergistic Vitamin Blend

Pantothenic Acid (As Calcium Pantothenate) - 12.5mg 125%
Vitamin B1 (As Aneurine Hydrochloride) - 2.5mg 166%
Copper Citrate - 1.75mg 88%
Chromium Picolinate - 125mcg 104%
Biotin (As Biopeiderm) - 7.5mcg 250%
Vitamin K2 (As Menaquinone) - 60mcg 75%
Vitamin B12 (As Methylcobalamin) - 7.5mcg 125%
Vitamin D3 (As Cholecalciferol) - 600IU 150%
Pyridoxal-5-Phosphate - 3mg 150%
Folic Acid - 800mcg 200%

S-E7 Lean Tissue Generation Complex - 3205mg

D-Aspartic Acid (As Sodium D-Aspartic Acid)
3-Aminopropanoic Acid (As Beta Alanine)
Trimethyl Glycine (As Betaine HCL)
S-Adenosyl Methionin

Endotropin Neuromuscular Enhancement Blend - 670mg

4-Hydroxyphenylalanine (As L-Tyrosine)
Beta-Hydroxyethyldimethylamine (As DMAE)
Phosphatidylserine

JR3 Targeted Stimulation Matrix - 397mg

Theobroma Cacao Extract (20% Theobromine)
Natural Caffeine
Adenosine Triphosphate (As Peak ATP)

Inactive Ingredients:
Silica Dioxide, Cherry Citrus Flavor, Masking Flavor, Sunett Ace K (10% In Maltrin), Splenda Sucralose (25% In Maltrin), FD&C Red # 40

Directions
As an adult dietary supplement, take 1 serving 4 times daily, before high protein carbohydrate meal. Evenly spread throughout the day or as directed by a healthcare professional.

Warnings
Keep out of reach of children Do not use if safety seal is damaged or missing. Store in a cool dry place.