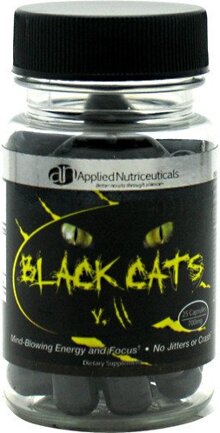 Applied Nutriceuticals Black Cats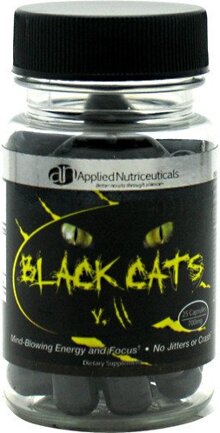 Applied Nutriceuticals Black Cats
Applied Nutriceuticals Black Cats 60 Caps
Applied Nutriceuticals Black Cats has been discontinued. They have released their new verison of Balck Cats v2 here- Black Cats V2
So you take energy products...but no matter which one you take there's a downside. Some make you too jittery, some wear off too soon; others give you a headache or lose their "kick" after just a few days. And then there's those nasty-tasting energy shots that mess with your stomach if you can get past the taste...
Back in the day, products containing ephedra / ephedrine were the best answer. When dosed just right, you'd be good to go for hours. But even ephedra products had their downside - you'd crash - and crash HARD.

What if there was something that you can take safely and regularly that has no negative side effects and produces similar effects to ephedra products without the crash? We're talking crisp, clean, long-lasting vivid energy that tapers off gradually.

BLACK CATS from Applied Nutriceuticals is so uniquely different that it is the "HD TV" of energy products versus all others! (Which are like your grandma's old black & white television set.)
---
Applied Nutriceuticals Black Cats Benefits:
Increases norepinephrine output for intense alertness and mental acuity.
Increases release of hormone sensitive lipase (HSL - a fat burning hormone)
Smooth, time-released energy for up to 8 hours, with no jitters and no crash.
Accelerates your metabolism and elevates BMR (Basal Metabolic Rate - which is the amount of energy (calories) you burn at rest.
Longer, more effective workouts
Better productivity in work and play
Greater energy to complete daily tasks
Positive mood enhancement
Incinerates body fat
Helps tighten skin
---
Black Cat Directions:
Take one (1) or two (2) capsules for sustained, intense energy. Start with the lower recommended dose to assess tolerance and, if needed, increase until desired effect is reached.
---
Black Cat Warnings & Side Effects:
This product is only intended to be consumed by healthy adults 18 years of age or older.  Pregnant or nursing women should not use this product.  Consult with your health care provider before using this product, especially if you are taking any prescription, over the counter medication, dietary supplement product or if you have any pre-existing medical condition including but not limited to: high or low blood pressure, cardiac arrhythmia, stroke, heart, liver, kidney or thyroid disease, seizure disorder, psychiatric disease, diabetes, difficulty urinating due to prostate enlargement or if you are taking a MAO-B inhibitor or any other medication, including but not limited to MAOIs, SSRIs, or any other compounds with serotonergic activity.  This product contains caffeine and should not be taken by individuals wishing to eliminate this ingredient from their diet.  Discontinue use 2 weeks prior to surgery.  Do not use in combination with other caffeinated products.  Discontinue use and immediately consult your health care professional if you experience any adverse reaction to this product.  Do not exceed recommended serving.  Do not use if safety seal is broken or missing.  This product may contain ingredients banned by certain sports organizations.  User assumes all risks, liabilities, or consequences respecting testing.  KEEP OUT OF REACH OF CHILDREN.