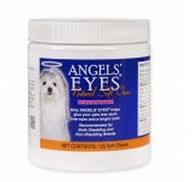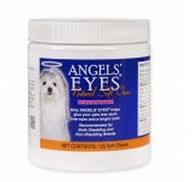 for Dogs Overview

Angels' Eyes for Dogs helps treat the reddish-brown marks on or around your dog's eyes, often called tear stains. Tear stains are common in many light colored dogs and certain breeds are inherently more likely to develop them, such as the Maltese. Angels' Eyes for Dogs is rich in either chicken or beef liver and the mild antibiotic tylosin tartrate, shown to eliminate the bacteria that causes tear stains in as little as one month. The two types of bacteria responsible for tear staining include Ptyrosporin and Porphyrins, and can be present in dog tears and saliva. Because they are present in saliva, your dog may get these same reddish-brown marks on or around his/her mouth as well. Tylosin tartate fights these two types of bacteria and helps to restore a normal, healthy-looking coat around your dog's eyes and mouth.
for Dogs Description from ANGELS EYES
Angels' Eyes is the first product specifically developed for DOGS to eliminate unsightly tear stains from the inside out! Angels' Eyes also helps to eliminate staining around the mouth and their coats due to licking.

Other products are topical requiring high maintenance and yet will only remove the tear stains temporarily causing it to return worse than before. Angels' Eyes starts working before the tear stains begin and never adds food dyes or wheat which can have negative effects on your pet.
Ingredients:
100% Pure Chicken Liver, tylosin as tartrate

Crude Protein 56% minimum, crude fat 15.38% minimum, crude fat 15.38% minimum, Crude Fiber .07% Maximum moisture 6.5% maximum.
Manufacturer's Directions
SHAKE BEFORE DISPENSING. Sprinkle Angels' Eyes daily on regular food. After 3 months, reduce to 4 times per week. After 6 months reduce further to twice a week. After 9 months, discontinue use. If tear stains reappear, repeat procedure as directed. Angels' Eyes is not intended for extended use. Please store bottle in a cool dry place.

Puppies (up to 3 months): 1/8 tsp. daily
-Dogs 2 to 4 lbs: 1/4 tsp. daily
-Dogs 5 to 7lbs: 1/2 tsp. daily
-Dogs 8 to 11 lbs 3/4 tsp. daily
-Dogs 12lbs and up tsp. daily
Manufacturer's Disclaimer
Safe during pregnancy. Safe for 8 week puppies. Keep out of the reach of children.