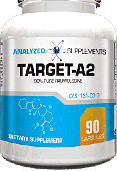 Analyzed Supplements Target A2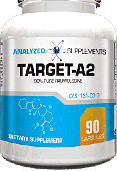 Analyzed Supplements Target A2
Analyzed Supplements Target-A2
Target-A2 is a fat burning/weight loss supplement that contains the ingredient Rauwolscine. Rauwolscine also known as "alpha-yohimbine" is one of the most studied alpha-2 adrenergic antagonists. The compound Rauwolscine is a cleaner and more acceptable version of yohimbine.
Rauwolscine is an extracted from Rauwolfia Serpentina which is a cutting edge stimulant that provides a clean focus.  Rawolscine is attracted to all of the fat around your midsection. Analyzed Supplements offers a 90% Extract of Rauwolscine from Rauwolfia Serpentina.
---
Supplement Facts
Serving Size  1 Capsule
Servings Per Container 90 Amount Per Serving Serving % DV Rauwolfia Serpentina (Standardized to 90% Rauwolscine) 3 mg *
*percent Daily Values are based on a 2,000 calorie diet.
---
Other Ingredients:
Cellulose, Gelatin, Magnesium Stearate, Silicone Dioxide
*These statements have not been evaluated by the Food and Drug Administration. This product is not intended to diagnose, treat, cure or prevent any disease.
---
Directions:
Take 1 capsule 2-3 times daily. Do not use for longer than 8 weeks without a subsequent 4 week break.
---
Warning:
DO NOT USE IN COMBINATION WITH CAFFEINE OR ANY STIMULANTS FROM OTHER SOURCES, INCLUDING BUT NOT LIMITED TO COFFEE, TEA, SODA, AND OTHER DIETARY SUPPLEMENTS OR MEDICATIONS. DO NOT USE UNDER EXTREME CONDITIONS OF HEAT, SLEEP DEPRIVATION OR DEHYDRATION. DO NOT COMBINE WITH ALCOHOL. This product is only intended to be consumed by healthy adults 18