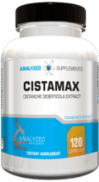 Analyzed Supplements CistaMax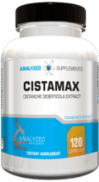 Analyzed Supplements CistaMax
Overview
Cistanche Deserticola, is rapidly gaining attention throughout the world for its potential ability to improve performance, enhance muscular growth and recovery, and positively modulate various hormones. This plant, a valuable component of traditional Chinese medicine, possesses several unique compounds called "Phenylethanoids" that have been used for centuries for improving the body's systems.
Where exercise performance is concerned, Cistanche Deserticola extract has been shown in the murine model to increase time to exhaustion (increased endurance), reduce CK, LDH, and lactic acid levels (improved recovery and reduced soreness), and improve energy storage (increased strength production)1,2. On a microscopic level, the muscle cell stores more glycogen after exercise, meaning a quicker time to recovery and preserved strength for the next exercise session2. The muscle cells also showed growth, in both size and number, of mitochondria2. Mitochondria are the fuel generators of the cell, using up substrates like fat to produce energy. The net result is more efficient energy consumption, which may lead to improved fat loss and strength output simultaneously. It goes without saying that the possibility of improved muscle resilience, size, strength, recovery, and endurance would be beneficial to any serious bodybuilder or athlete.
In terms of hormonal modulation, Cistanche Deserticola is an exceptionally powerful androgen found in nature. In a study done in male mice, C. Deserticola acted as an exogenous form of testosterone, mimicking testosterone's effects in the body and even improving fertility3.
Finally, a brand new 2014 study looked into C. Deserticola's effect on mammalian lifespan, and it was found that C. Deserticola was a potent life-extending plant, acting by reversing the gradual decline in immune function that accompanies aging4. It also acts as an anti-aging compound through various other mechanisms, as quoted by the authors of another study: "Cistanche deserticola can enhance the ability of learning, memorizing, anti-oxidation, and improve immune function5."
By improving the efficiency with which the body restores itself, C. Deserticola may improve long-term fatigue and physical damage associated with overtraining. Couple this with its unique abilities as a phytoandrogen and muscle performance enhancer and you have an athlete's dream where natural products are concerned.
CistaMax by Analyzed Supplements offers Cistanche Deserticola via an extraction process that confers the bioactive ingredients to the user, amplifying the effects mentioned above.
References


Cai, R. L., et al. "Antifatigue Activity of Phenylethanoid-rich Extract from Cistanche Deserticola." Phytother Res 24.2 (2010): n. pag. Web.


Han, L. C., and J. F. Hou. "Effects of Cistanche Deserticola Y.C. Ma on Serum Creatine Kinase and Ultrastructures of Skeletal Muscles in Mice." Zhongguo Zhong Yao Za Zhi 18.12 (1993): 743-45. Web.


Gu, Li, Wen-Ting Xiong, Chao Wang, Hong-Xia Sun, Guo-Fu Li, and Xin Liu. "Cistanche Deserticola Decoction Alleviates the Testicular Toxicity Induced by Hydroxyurea in Male Mice." Asian Journal of Andrology 15.6 (2013): 838-40. Web.


Zhang, Ke, Xu Ma, Wenjun He, Haixia Li, Shuyan Han, Yong Jiang, Hounan Wu, Li Han, Tomohiro Ohno, Nobuo Uotsu, Kohji Yamaguchi, Zhizhong Ma, and Pengfei Tu. "Extracts of Cistanche Deserticola Can Antagonize Immunosenescence and Extend Life Span in Senescence-Accelerated Mouse Prone 8 (SAM-P8) Mice." Evidence-Based Complementary and Alternative Medicine 2014 (2014): 1-14. Print.


Xuan, G. D., and C. Q. Liu. "Research on the Effect of Phenylethanoid Glycosides (PEG) of the Cistanche Deserticola on Anti-aging in Aged Mice Induced by D-galactose." Zhong Yao Cai 31.9 (2008): 1385-388. Web.