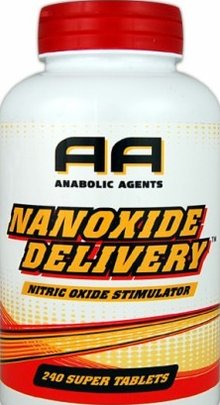 Anabolic Agents Nanoxide Delivery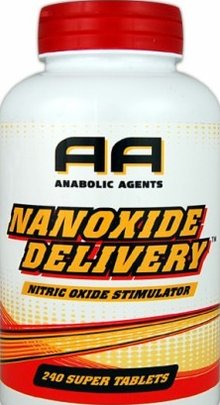 Anabolic Agents Nanoxide Delivery
Accelerate muscle growth and strength gains with Nanoxide Delivery. Nanoxide Delivery at Paramount-Supplements.com helps the blood vessels to expand and engorge muscles to help promote an anabolic environment, which will enhance muscle recovery and repair and growth.

Stack your Nanoxide with Creatine Saturation for even bigger muscle pumps!

Supplement Facts

Serving Size: 6 Extended Half-Life Tablets

Servings Per Container: 40

Amount Per Serving % Daily Value

Vitamin B6 (As Pyridoxine Hydrochloride) 4mg 200%
Folic Acid 400mcg 100%
Vitamin B12 (As Methylcobalamin)6mcg 100%

Nano-NitricTM (Advanced Nitric Oxide Stimulant) 4000mg
L-Arginine Hydrochloride
(Featuring Oxy-Nitric-Compression)
Arginine Decanoate
Arginine Ethyl Ester Hydrochloride
Arginine Alpha Ketoglutarate

Nitric Oxide Synthesis Complex 200mg
Ashwagandha (Withania Somnifera) (Root) 17a-Hydroxy-Yohimban-16a-Carboxylic-Acid Methyl Ester Glycyrrhizin (Glycyrrhizia Sp.) (Root) Poria (Wolfiporia Cocos) (Sclerotium)

Amino Oxide Release Complex 100mg
L-Valine
L-Norvaline
Ornithine Alpha Ketoglutarate

Other Ingredients: Dicalcium Phosphate, Sorbitol, Polyvinyl Propylene, Xanthan Gum, Stearic Acid, Film Coat (Methacrylic Acid Copolymer, Triethyl Citrate, Yellow 5 Lake, Titanium Dioxide, Silicon Dioxide, Blue 1 Lake), Magnesium Stearate.

Directions For Use: Take 6 tablets once daily, 2 hours prior to workout. Read the entire label before use and follow directions.

Warnings: Keep Out Of Reach Of Children. Do not use if you are pregnant or nursing. Not intended for use by persons under 18. Do not use if you have had a myocardial infarction (heart attack). Consult a physician if you have been treated for, or diagnosed with, or have a family history of any medical condition including, but not limited to, heart disease, high or low blood pressure, cardiac conditions, or psychological disorders, or if you are taking a prescription drug or over-the-counter medication. Use only as directed. Do not exceed recommended serving as improper use of this product does not enhance results.

* These statements have not been evaluated by the Food and Drug Administration. This product is not intended to diagnose, treat, cure, or prevent any disease.