Quick Links to Our Prices
How does this work and how do stores get listed? See our disclosure below to learn more. Price History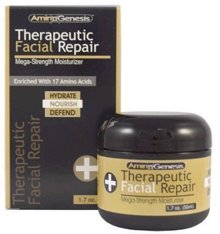 AminoGenesis Therapeutic Facial Repair, Mega
Amino Genesis Therapeutic Facial Repair Description
New & Improved Patented Technology - AminoGenesis
Anti-Aging Moisturizing Crème
The most concentrated version of the AminoGenesis formula. Three times the concentration of amino acids gives you moisturizing and nourishing power not available in any other formula in the world. Instead of simply covering and sealing the skin like a typical moisturizer, Therapeutic Facial Repair absorbs rapidly to directly hydrate and nourish the skin with 17 different amino acids. Nine of these are known as essential, meaning the body cannot produce them and must be acquired from outside the body.
The AminoGenesis strategy for beautiful skin:
Hydrate:
No matter what your skin type, keeping the skin hydrated is the single most important aspect to maintaining beautiful, radiant and youthful looking skin. Amino acids are the main moisture retention factors in your skin.
Nourish:
Amino acids are the organic miracles of life. They are the basic building blocks of all proteins that make up your skin such as collagen and elastin. These basic, naturally occurring, building blocks can help your skin to have a more radiant, healthy and youthful looking appearance.
Defend:
Your skin is under constant attack from airborne bacteria and cell damaging molecules called free radicals. The AminoGenesis proprietary formula helps ensure the highest level of protection against these skin damaging elements.
Now enhanced with Preventhelia. A patented new peptide technology for even better results!
Preventhelia is an amazing new peptide that helps protect your skin from both oxidative and carbon free radical damage. It also helps protect key skin problems from pre-mature breakdown, helping to reduce the visible signs of aging. This breakthrough in peptide technology helps enhance and protect your skin from everyday stressors that age the appearance of your skin.
• Ultimate new protector in the fight to help prevent the visible signs of aging
• Helps neutralize oxidative free radicals
• Only known peptide to also help neutralize carbon free radicals
• Helps protect the skin against the abuse of the elements
• Helps maintain the skins elasticity
New & improved for even better results!
Do you have these anti-aging concerns?
• Fine lines
• Deep furrows
• Forehead "11's"
• Wrinkles
• Discoloration
• Elasticity
Benefits:
• Leaves skin softer and smoother
• Flawless radiant appearance
• Ultra hydrating
• Helps promote even skin tones
• Revitalizes dull, lifeless looking skin
Directions
As an everyday moisturizer. Apply morning and evening to the face, neck and chest areas to deeply hydrate and nourish the skin.