Quick Links to Our Prices
How does this work and how do stores get listed? See our disclosure below to learn more. Price History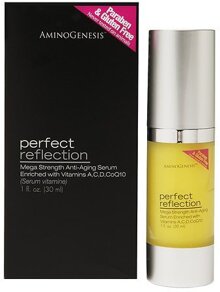 AminoGenesis Perfect Reflection, Mega-Strength Anti-Aging Serum
Enriched with 17 Amino Acids
The most advanced anti-aging serum available anywhere!  No other company has been able to combine 4 powerful anti-oxidants (vitamin A, C, D and CoQ10) with 17 plant derived amino acids.  The amazing AminoGenesis water based formula penetrates the skin rapidly delivering moisture and skin rejuvenating nutrients for the most beautiful, youthful and healthy skin possible!
Perfect Reflection = Tremendous Benefits
*
Helps repair sun damage, binds water into the skin relieving dryness.
*Normalize skin tones and reduces the appearance of dark spots.
*Decreases the appearance of fine lines and wrinkles.
*Improves skin elasticity, texture, firmness and smoothness.
The Anti-Aging Power of Anti-Oxidants

Environmental factors like the sun, wind and pollution cause the formation of free radicals in the skin.  These rampaging molecules wreak havoc on the structures of the skin and can damage DNA strands causing mutations.  This process damages skin cells aging the skin more quickly.
Anti-oxidants are helpful agents that de-energize and trap free radicals rendering them harmless while promoting healthy and vibrant skin.  In addition to 17 skin rejuvenating amino acids, the anti-oxidants in AminoGenesis Perfect Reflection have powerful beautifying benefits to the skin.
Other Important Benefits of the Powerful Anti-Oxidants in Perfect ReflectionVitamin A: 
Improves skin elasticity, texture, firmness and smoothness.
Vitamin
C:
  Protects collagen from oxidation, reduces dark spots, and helps the skin remain soft and supple.
Vitamin
D:
  Helps improve skin feel and texture.  Studies indicate it is an important factor in epidermal cell turnover.
CoQ10
:  This essential element is the spark that helps cells create energy and helps preserve vitamin E.
The AminoGenesis Way To Beautiful, Radiant and Youthful SkinHydrate

No matter what your skin type, keeping the skin hydrated is the single most important aspect to maintaining beautiful, radiant and youthful skin.  Typical moisturizers simply cover and seal the surface of the skin in an attempt to hold moisture in.  AminoGenesis has a special delivery system which rapidly penetrates into the skin to directly hydrate with water.
Nourish
Amino Acids are the organic miracles of life.  Amino acids are the building blocks of all living tissue on Earth.  These basic building blocks are essential for normal cellular function.  Amino acids are the main moisture retention factors in human skin.  Topical application of amino acids has shown to dramatically increase moisture content while decreasing visible lines.  In addition, amino acids help in the production of collagen and elastin, regulate sebaceous gland activity, decrease discoloration due to sun damage and give the skin a softer smoother feel.
Defend
The skin is constantly under attack by harmful airborne bacteria.  In addition your skin takes a beating from unbalanced molecules called free radicals.  The AminoGenesis formula helps neutralize surface bacteria while working to neutralize free radicals in an effort to prevent the damage done.
* These statements have not been evaluated by the Food and Drug Administration. This product is not intended to diagnose, treat, cure, or prevent any disease.