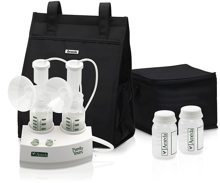 Ameda Purely Yours Ultra Double Electric Breast Pump Kit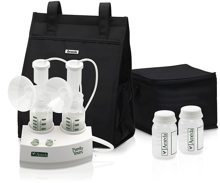 Ameda Purely Yours Ultra Double Electric Breast Pump Kit
Custom Control™ For mothers in a class of their own.  Research tells us that mothers respond differently to different pumping patterns.  Even so, one-dial, pre-programmed pumps in their "Expression" mode provide limited suction and speed combinations based on the average mother.  When you turn their dial to the right, suction goes up and speed goes down.  When you turn their dial to the left, suction goes down and speed goes up.

Because you deserve more, the Ameda Purely Yours Ultra pump offers CustomControl™.  With its separate suction and speed dials the Purely Yours Ultra doesn't make decisions for you or limit your choices.

Do you get more milk at high suction and high speed?  The Purely Yours Ultra can take you there.  Low suction and low speed?  It can go there, too!  Its dual adjustability allows you to choose the combination (32 in total) that gives you the most milk.  Unlike other pumps, with the Purely Yours Ultra you can find your own breast pump settings to customize your pumping experience for the best results every time.

Why use a pump to that limits your options?  Ameda pumps work well for all mothers, including those who are in a class of their own.

Box Contents:

Purely Yours Ultra Pump:  Mom inspired, professional performance weighing in at only one pound.  The two dials allow you to easily customize your pumping for the best results every time.
Ultra Tote:  Upscale and contemporary ultra-suede and faux-leather bag compliments your wardrobe while discreetly storing all your pumping essentials.  Easy-clean interior features pockets and dividers to keep you organized while on the go.
Custom Fit Flanges:  Includes three breast flange sizes.  Try all three sizes to find the fit that's best for you at any stage of breastfeeding.
Dual Hygieni kit:  Unique, double pumping kit with patented barrier keeps milk out of pump tubing and motor!  This easy-clean system virtually eliminates all tubing care.
Cool 'N Carry Milk Tote:  Removable insulated case holds up to 6 bottles.  Includes cooler packs to keep your milk cool for up to 10 hours.
Car Adapter:  to pump on the go
Pumping Pad:  for a clean pumping surface
Adapter:  for manual pumping
2 Extra Valves:   for Hygien Kit
For hygienic reasons, once this product is opened it cannot be returned
Please Note: This item has been built to U.S. electronics specifications and may need additional modifications or converters to be used in countries other than the U.S. and Canada.Pump unit Made in Switzerland;  Accessories Made in Mexico
Where breast pumps were born and raised:  More than 60 years ago in Sweden, engineer Einar Egnell made it his life's work to help breastfeeding mothers.  After years of research, Egnell created the first comfortable and effective breast pump. 
As with all portable breast pumps, this is a single- user product and should not be shared between mothers as it may present health risks to the mother or baby.
* These statements have not been evaluated by the Food and Drug Administration. This product is not intended to diagnose, treat, cure, or prevent any disease.