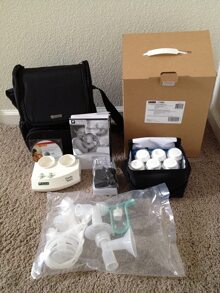 Ameda Purely Yours Electric Double Breast Pump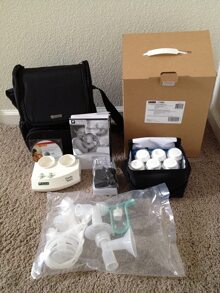 Ameda Purely Yours Electric Double Breast Pump
Pump Kit without BPA
Mom Inspired, Hospital Trusted
Double Electric Breast Pump:  Effective for Mothers Working Full-Time
Custom Control™.  Separate suction and cycle dials to help find the settings that work best for you. 
Easy Care.  No need to clean kit tubing
Convenient.  Lightweight and portable
Provides 30-6- cycles per minute
Versatile backpack; trendy, yet discreet
Where breast pumps were born and raised:  More than 60 years ago in Sweden, engineer Einar Egnell made it his life's work to help breastfeeding mothers.  After years of research, Egnell created the first comfortable and effective breast pump.  In the process, Egnell also created suction and cycling standards that today's lactation consultants use to judge most breast pumps.
Today's Ameda breast pumps use Engell's innovative technology with the features a 21st century mother expects.  Everything Ameda offers - Ameda breast pumps and products, breastfeeding education, and support of lactation professionals - reflects our passion for breast feeding.  We know how much breastfeeding matters to you and your baby.
Box Contents:
(1) Purely Yours Breast Pump
(1) Dual Hygienikit Milk Collection System
(1) Black Microfiber Backpack
(6) 4oz Bottles with Locking Caps
(1) Removable, Insulated Cool 'N Carry Tote
(3) Freezer Packs
(1) AC Power Adapter
(1) Car Adapter
(2) Contoured Breast Pads
(1) One-Hand Breast Pump Adapter Handle
(1) Instructions
For more information call: 1-866-992-6332
For hygienic reasons, once this product is opened it cannot be returned
Please Note: This item has been built to U.S. electronics specifications and may need additional modifications or converters to be used in countries other than the U.S. and Canada.
 Pump unit Made in Switzerland, Accessories Made in Mexico
* These statements have not been evaluated by the Food and Drug Administration. This product is not intended to diagnose, treat, cure, or prevent any disease.