Quick Links to Our Prices Price History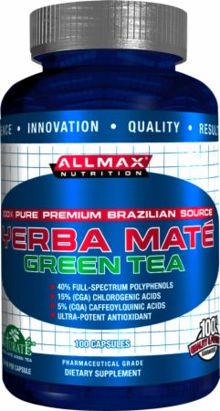 AllMax Nutrition Yerba Mate-Green Tea
AllMax Nutrition Yerba Mate-Green Tea
40% Full Spectrum Polyphenols
15% (CGA) Chlorogenic Acids
5% (CQA) Caffeoylquinic Acids
Yerba Mate Green Tea is a powerful, natural substance that is consumed heavily in South America, specifically Brazil, Argentina and Uruguay.
Now, ALLMAX brings you pure, premium Brazilian-source Yerba Mate in a highly powerful, standardized and concentrated capsule form with 196 active compounds, 11 polyphenols, 8 vitamins and 8 essential trace minerals, all completely naturally occurring. Our Naturate version of Yerba Mate Green Tea is one of the most highly concentrated forms of the tea and is 100% exclusive to ALLMAX.
ALLMAX Yerba Mate Green Tea (YMGT) is standardized to an amazing 40% polyphenols and has 15% CGA (Chlorogenic Acids) and 5% CQA (Caffeoylquinic Acids). It's been suggested to support a normal macronutrient metabolism.*
This is truly an ideal dieter's dream. Packed with healthy natural-source vitamins inherent in the plant species.
With support for increased fatty acid oxidation and the ability to promote a healthy, regular appetite, this is a very ideal diet supplement.* With very low levels of caffeine, advanced dieters may want to increase caffeine intake with 200 mg ALLMAX Caffeine to further support weight management efforts.* Yerba Mate has thermogenic activity and naturally includes theobromine.*
With the exclusive standardizations of Yerba Mate Green Tea coming from a pure Brazilian Source, ALLMAX YERBA MATe GREEN TEA is AllMax Nutrition's ultimate in healthy diet supplementation.*
The Naturate Advantage: ALLMAX has not only sourced the purest Yerba Mate we could, but has secured an exclusive highly standardized ratio extract you are unlikely to find anywhere else. Each batch of ALLMAX Yerba Mate Green Tea is HPLC tested to ensure the exceptionally high 40% polyphenols content and 15 CGA (chlorogenic acids) and 5% CQA (caffeoylquinic acids), both highly touted for their ability to support weight management and metabolism.*
Add 100% pure, natural ALLMAX Yerba Mate Green Tea to your healthy weight management and nutrition program today!