Quick Links to Best Prices Price History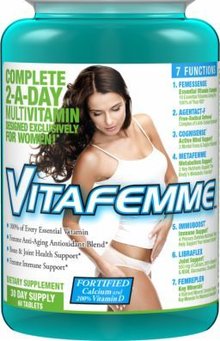 AllMax Nutrition VitaFemme Multi-Pack
VitaFemme Multi-PackDescriptionfromAllmax Nutrition
VITAFEMME is ideally suited for today's active woman. The perfect companion to your busy life, VITAFEMME comes in a convenient and portable multi-pack, which means there's no guesswork involved!

VITAFEMME gives you all of the essential vitamins you need and a wide range of active components to help you with all aspects of your life. We have included key ingredients like Ginseng and Echinacea to help support your immune system.

VITAFEMME is the only multi-pack vitamin, mineral and nutrient supplement for women with PROBIOTICS, PREBIOTICS and a full spectrum of ENZYMES to help your immune system in 3 DIFFERENT WAYS!

Perfect for portability, fits in your purse, your gym bag or your pocket, VITAFEMME is the ultimate in ease and convenience. One look at our label will tell you that you are getting everything you need and more! Convenient, complete and custom built for today's healthy and active woman.
Supplement Facts
Serving Size: 1 packet
Servings Per Container: 21
Ingredient
Amount
% Daily Value**
Femessense - Femme Essential Complex
2 pills
-Vitamin C (as Calcium Ascorbate and Ascorbic Acid)
60mg
100
-Vitamin A (as Beta Carotene)
5000IU
100
-Vitamin B1 (as Thiamin HCl)
1.5mg
100
-Vitamin B2 (as Riboflavin)
1.7mg
100
-Vitamin B3 (as Niacin)
20mg
100
-Vitamin B5 (as Calcium Pentothenate)
10mg
100
-Vitamin B6 (as Pyridoxine HCl)
2mg
100
-Vitamin B9 - Folic Acid (Folate)
400mcg
100
-Vitamin B12 (as Methylcobalamin)
6mcg
100
-Vitamin E (as dI-Alpha Tocopherol)
30IU
100
-Vitamin K (as Phytonadione)
80mcg
100
-Biotin
300mcg
100
-Inositol Granular
25mg
-Choline (Bitartrate)
24mg
Immubost - Femme Immune Support
-Siberian Ginseng Extract
100mg
-Echinacea
50mg
-Olive Leaf
25mg
-Zinc amino acid chelate
15mg
100
Libraflex - Femme Joint Support
-Calcium (as Calcium Amino Acid Chelate, Dicalcium Phosphate, Calcium Carbonate)
300mg
30
-Methylsunlfonylmethane (MSM)
150mg
-Glucosamine HCI
75mg
-Chondroitin sulfate
75mg
Femreplen - Femme Mineral Complex
-Iron
14mg
100
-Copper amino acid chelate
2mg
100
-Managanese amino acid chelate
2mg
100
-Iodine (potassium iodide) - kelp
150mcg
100
-Molybdenum amino acid chelate
75mcg
100
-Selenium amino acid chelate
60mcg
86
Ultragest - Femme 3-Form Digestion Complex
1 cap
-Probiotic Blend
--Lactobacillus sporogenes
500mill
-Prebiotic Blend
--FOS (Inulin from Chicory Root)
300mg
--NutraFlora
100mg
-Enzymatic Digestion Blend
--Protease
10mg
--Lipase
80mcg
--Amylase
17mg
--Glucoamylase
16mg
--Cellulase
6mg
Purmega - Femme Omega 3 Fatty Acids
1softgel
Ultra-Pure Cold Water Fish Oil Concentrate
1000mg
OMEGA 3 Fatty Acids
-Elcosa Pentaenoic Acid (EPA), 180mg, Docosal Hexaenoic Acid (DHA) 120 mg
Agentact - Femme Anti-Aging Blend
1pill
-Green Tea Extract
200mg
-Acai Berry Extract
100mg
-Grape Seed Extract
50mg
-Pomegranate Fruit Extract
32mg
-Red Wine Extract
15mg
-Citrus Bioflavonoid Complex
12mg
-Polygonum Cuspidatum Root Extract
10mg
** Percent Daily Value is based on a 2000 calorie diet. Your daily values may be higher or lower depending on your calorie needs.
† Daily Value not established.

Ingredients:
Other ingredients: Microcrystalline cellulose, croscarmellose sodium, stearic acid, magnesium stearate, silica, hypromellose, polyethylene glycol, gelatin, calcium phosphate dibasic.
Manufacturer's Directions
Consume 1 packet daily.
Manufacturer's Disclaimer
Warning: Consult a health care practitioner prior to use if you are pregnant or breast feeding, you have diabetes, you have an iron deficiency, you are taking blood thinners, you have gastrointestinal lesion/ ulcers, are taking anticoagulant agent, anti-inflammatory agents or before having a surgery. If symptoms of digestive upset (diarrhea) occur, worsen or persist beyond 3 days, discontinue use and consult a healthcare practitioner. People sensitive to nicotinic acid may experience flushing of the skin that is generally mild and transient. Hypersensitivity/ allergy has been known to occur, in which case, discontinue use. If symptoms persist or worsen, consult a healthcare practitioner. Keep out of reach of children.

These statements have not been evaluated by the Food and Drug Administration. This product is not intended to diagnose, treat, cure or prevent any disease.