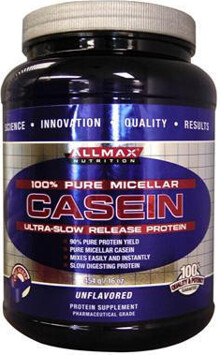 AllMax Nutrition 100% Micellar Casein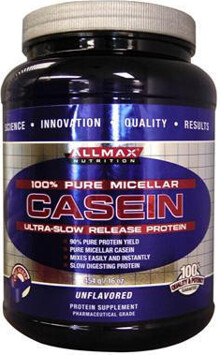 AllMax Nutrition 100% Micellar Casein
100% Micellar Casein Protein provides an astonishing 90% protein yield. This means that you get a 100% complete protein with 29 grams of tested protein with each 32-gram serving.
Because the source of the protein is 100% Micellar Casein, you get the added bonus of a slow-release protein. Perfect for pre-sleep feeding to keep your muscles saturated with protein for up to 7 hours.*
Muscle Catabolism is the natural process where your body breaks down muscle tissue to feed biological processes. This takes place when there is an insufficient amount of amino acids in your blood stream from digested proteins. Thus your muscles are literally deconstructed to feed other organs. In order to effectively increase muscle size, you must prevent this from taking place.
Micellar Casein is considered to be the purest form of Casein - 100% intact, undenatured Protein. In fact, a published journal study shows that Micellar Casein inhibited wholebody protein breakdown.* Many consider Casein to be the ultimate protein due to its more gradual release of Amino Acids. This gradual release allows the body to fully absorb the protein, creating an extremely high net protein utilization score.*
100% Micellar Casein is instantized so it mixes easily and instantly into any shake or recipe. We have kept our Micellar unflavored to allow you to easily integrate it into your existing diet plan.
A perfect high protein ratio with zero fat and zero carbs per serving makes 100% Micellar Casein the ideal addition to any competitive athlete's diet.
ALLMAX 100% MICELLAR CASEIN comes unflavored in a 454 gram size.