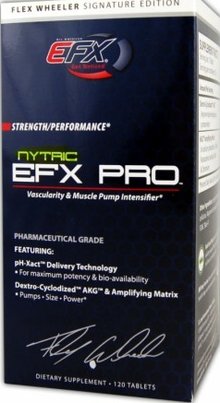 All American EFX FWSS Nytric EFX Pro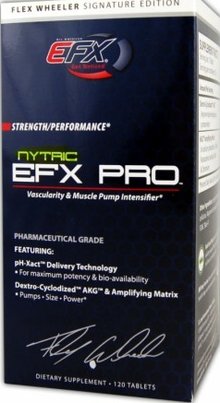 All American EFX FWSS Nytric EFX Pro
"I've had the chance to try a ton of nitric-type products in my day. Most of them either didn't work, or they gave me a little pump but nothing to brag about. So when I first started taking Nytric EFX PRO, I didn't know what to expect from it. But that all changed in just a few doses. Talk about "swole"... I knew right away this was some serious, crazy muscle-building stuff!"
Flex Wheeler – IFBB Legend and "Born-Again" Natural Freak
In case you didn't already know, once Nitric Oxide (NO) is stimulated, it's only available for about 5-10 seconds. Therefore, the last thing you want to do is slam AKG into your system where it'll get burned up before it can do its job. The key is to make sure the AKG releases slowly into the bloodstream over time for sustained NO stimulation. That's how you get BIG results from this awesome compound.
So how do you know which products are sustained released and which ones aren't? It's actually quite simple... it MUST be in tablet form. Unfortunately, most NO products are in a powdered form as part of a larger formula. Bottom-line: those are NOT time-released!
So, look for a pure AKG product in tablet form if you truly want your muscles to receive a surge of nutrients and oxygen that'll put you in the fast lane for growth.
Other NO formulas require you to take 6-9 tablets per day. But thanks to our Dextro-Cyclodized AKG, plus its advanced Amplifying Matrix, you only need 3 tablets per day of Nytric EFX PRO. Yes, it really is that strong!
You'll love the intense feeling of nutrient-rich, muscle-building blood stretching your veins and capillaries to their absolute limits!
Nytric EFX PRO had to be nothing less than the best. So we went straight to the man who actually discovered Arginine-alpha-Ketoglutarate (AKG). That's our formulator, Mr. Jeff Golini – the same multi-patent holding scientist who invented Kre-Alkalyn EFX creatine. What he uncovered was the ultimate natural, non-drug method of stimulating Nitric Oxide in the human body.
So does this formula really work that much better? Just take a close look at the way Flex Wheeler looks today. See how that drug-free arm stretches the measuring tape? Or how about IFBB Pro Daron "Double Barrel" Lytle (shown in "3 Reasons" banner above)? Now you can see why we've dubbed Mr. Golini the "Freak Maker"!
1. pH-Xact Delivery Technology: Ensures optimal bio-availability of our formulas by giving them the precise pH levels necessary to rapidly shuttle nutrients to the bloodstream with maximum potency. Remember, it's not how much you take, it's how much you absorb!
2. Dextro-Cyclodized: A Dextro-Cyclodized material is one that has been specifically modified using our proprietary pharmaceutical-level delivery technology to increase its ability to penetrate body tissues and release its biologically active compounds under specific conditions.
WARNING: This process is extremely complex, requiring specialized equipment, educated personnel, time, and a substantial investment. In fact, just the investment required alone is the main reason why most companies would not even attempt to utilize this technology. So can anyone do this? In a word: No!
Beyond the added cost, most companies do not have the technology, staff or equipment to employ this technology properly. Some have tried to develop similar delivery systems in the past. However, they did nothing more than blend a chosen compound with a cycloamylose-like material. Obviously, this will NOT work. Our process is not only proprietary; it is exclusive to All American EFX.
So when you start seeing products appear that claim to be exactly like ours, with the "same" delivery technology, but much cheaper, you'll know they are nothing more than cheap knockoffs.
3. Buchi Analytical: This seal is our product testing guarantee. Look for it on our full range of AAEFX physique and performance products. You deserve to have complete confidence that our products are 100% legit.
4. BioCeuticals Research & Development: An independent lab fully screens our products for 16 banned substances down to parts per billion...and some down to parts per trillion!
For Best Results:
Take 1 tablet 3 times per day, morning, noon and evening 30 minutes before a meal. On training days take one of these servings 30-45 minutes before your workout.
On "Off" days take 1 tablet 30 minutes before breakfast, afternoon meal, and final meal.
3. Purchase new shirts with sleeves that stretch!
Once again All American EFX has succeeded in setting the new industry standard in non-drug performance enhancement and for boosting work-out energy, intensity and strength with this breakthrough nutrient development!