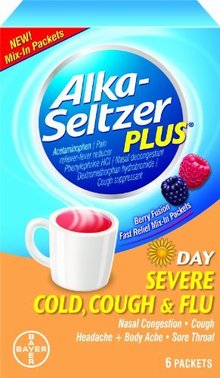 Alka-Seltzer Plus Severe Cold Cough and Flu Day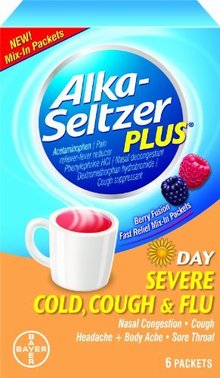 Alka-Seltzer Plus Severe Cold Cough and Flu Day
Alka-Seltzer Plus Severe Cold Cough and Flu Day Berry Fusion Description
NEW! / Mix-In Packets
Fast Relief Mix-In Packets
Nasal Congestion • Runny Nose • Cough
Headache • Body Ache • Sore Throat
Temporarily relieves these symptoms due to a cold or flu: Minor aches and pains, headache, cough, sore throat, nasal and sinus congestion, runny nose, sneezing, itchy nose and throat, itchy, watery eyes due to hay fever. Temporarily reduces fever.
Feel Better Fast
Mix the Alka-Seltzer PLUS Fast Relief Mix-In packet into 8 oz. of hot water and sip the soothing beverage within 10-15 minutes.  Experience the steam and the tasty drink as it infuses powerful relief through your whole body. Acetaminophen, Diphenhydramine hydrochloride, and Phenylephrine hydrochloride powder.
Does not contain Aspirin
Disclaimer
These statements have not been evaluated by the FDA. These products are not intended to diagnose, treat, cure, or prevent any disease.