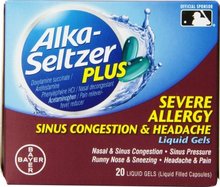 Alka-Seltzer Plus Severe Allergy Sinus Congestion and Headache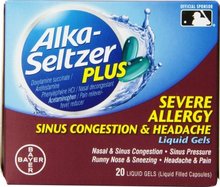 Alka-Seltzer Plus Severe Allergy Sinus Congestion and Headache
Alka-Seltzer Plus Severe Allergy Sinus Congestion and Headache Description
NEW! Liquid Gels
Nasal & Sinus Congestion
Sinus Pressure
Runny Nose & Sneezing
Headache & Pain
Liquid Filled Capsules
Nasal & Sinus Congestion
Sinus Pressure
Runny Nose & Sneezing
Headache & Pain
Does not contain Aspirin.
Directions
Do not take more than the recommended dose.  Adults and children 12 years and Over:  Take 2 capsules with water every 4 hours. Do not exceed 10 capsules in 24 hours or as directed by a doctor. Children under 12 years of age:  Do not use.
Free Of Aspirin. Disclaimer These statements have not been evaluated by the FDA. These products are not intended to diagnose, treat, cure, or prevent any disease.
Ingredient Facts