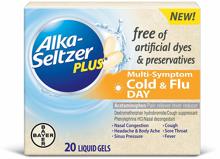 Alka-Seltzer Plus Cold Formula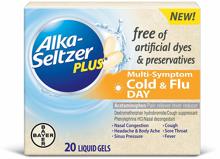 Alka-Seltzer Plus Cold Formula
Alka-Seltzer Plus Cold Orange Zest Description
Aspirin/Pain Reliever
Fever Reducer
Nasal Congestion
Headache and Body Ache
Sore Throat
Sinus Pressure
Runny Nose
Temporarily relieves these symptoms due to a cold:
• minor aches and pains headache
• runny nose
• nasal and sinus congestion
• sneezing
• sore throat
• reduces fever
Directions
Adults and children 12 years and older, take 2 tablets fully dissolved in 4 oz of water every 4 hours. Do not exceed 8 tablets in 24 hours or as directed by a doctor. Children under 12 years do not use.