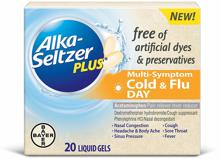 Alka-Seltzer Plus Cold & Flu Day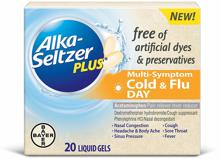 Alka-Seltzer Plus Cold & Flu Day
Alka-Seltzer Plus Day Cold and Flu Formula Liquid Gels Description
Non-Drowsy Cold & Flu Formula
Nasal Congestion
Headache & Body Ache
Cough
Sore Throat
Sinus Pressure
Temporarily relieves these symptoms due to a cold or flu:
Minor Aches and Pains
Headache
Cough
Sore Throat
Nasal and Sinus Congestion
Temporarily Reduces Fever
Directions


Do not take more than the recommended dose

Adults and children 12 years and over: Take 2 capsules with wter every 4 hours. Do not exceed 10 capsules in 24 hours or as directed by a doctor. Children under 12 years: Do not use.
Disclaimer These statements have not been evaluated by the FDA. These products are not intended to diagnose, treat, cure, or prevent any disease.
Ingredient Facts