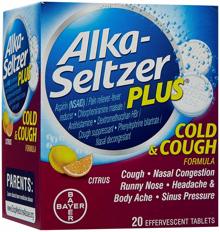 Alka-Seltzer Plus Cold & Cough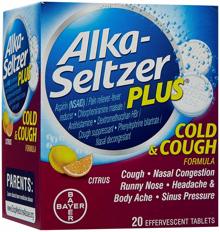 Alka-Seltzer Plus Cold & Cough
Alka-Seltzer Plus Cold and Cough Citrus Description
Alka-Seltzer Plus Cold & Cough Formula
Fast Relief of:  Cough - Nasal Congestion - Runny Nose - Headache + Body Ache - Sinus Pressure
Cold symptoms usually begin 2 to 3 days after exposure to a cold virus and can last from 7 to 10 days.  When you have a cold, you want relief from its symptoms fast.
To help your body fight the common cold, rest in bed, drink plenty of fluids and gargle with warm salt water.  Unlike cold pills that take time to dissolve, Alka-Seltzer Effervescent is ready to go to work the instant you take it.  Alka-Seltzer Plus Cold & Cough Medicine is alive with effervescence - it rushes medicine to break up your worst cold symptoms.
Directions


Adults and Children 12 years and over:  take 2 tablets fully dissolved in 4 ounces of water every 4 hours.  Do not exceed 8 tablets in 24 hours or as directed by a doctor.  Children under 12 years:  do not use.

Other information

each tablet contains: sodium 415 mg

Phernylketonurics:  Contains Phenylalanine 9 mg per tablet

Store at room temperature.  Avoid excessive heat.