Quick Links to Our Prices Price History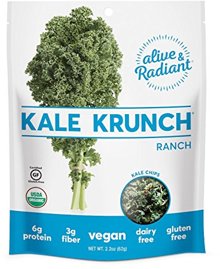 Alive & Radiant Foods Kale Krunch Organic
Alive & Radiant Foods Kale Krunch Gluten Free Cheezy Chipotle Description
Nature's Green Supersnack
Rich Smokey Cheddar Flavor without the Cheese
Made with Organic Nuts, Seeds, and Kale
Raw • Gluten Free • Soy Free • Dairy Free
Original
Certified Organic
What you have in your hands are the original raw kale chips that inspired a kale chip revolution. Alive and Radiant Foods fuses nutrient-rich vegetables, superfoods and organic spices to create nature's perfect green supersnack. The delicious flavors will please your palate and make you a believer that there is magic in every bag. Alive and Radiant Foods are committed to reinventing the art of snacking, one leaf at a time.
*Kale has been known to ease congestion, helps protect the stomach, and is a source of chlorophyll, calcium, iron and vitamins. Each bag is packed with nature's own superfoods and is fortified with everything to make it a complete meal.
Free OfGluten, soy, dairy.