Warning: This product is not currently available at any store.
Click the button above and PricePlow will email you when the first store has it in stock!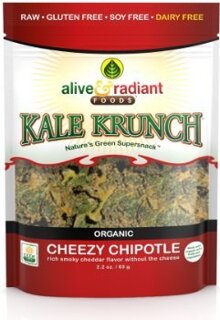 Alive & Radiant Foods Kale Krunch
Alive and Radiant Foods Kale Krunch Raw Certified organic Gluten free Vegan Dehydrated, not baked or fried Alive and Radiant Foods sprout, mix and dehydrate their ingredients at low temperatures so that they remain 'raw'. Since they never bake or fry, you can rest assured that the fat in their products comes from heart-healthy nuts and seeds. The nutrients and great taste stay intact and aren't processed away. In each bag you'll find full kale leaves that have been dehydrated for a satisfying crunch. Quite Cheezy - is the original chip that started a kale chip revolution. It's vegan, they swear, but your friends will never believe you. For over nine years they've kept the same signature cheesy blend of cashews, red bell pepper and nutritional yeast. Cheezy Chipotle - a new twist on their Quite Cheezy Kale Krunch, Cheezy Chipotle kicks things up a notch. This time they've added chipotle peppers, smoked salt and paprika to their signature cheesy blend of cashews, red bell pepper and nutritional yeast to create the perfect balance of southern smoke and heat. Southwest Ranch - blends garlic and their secret list of spices with habanero peppers so each bag finishes with a kick. Although your taste buds won't believe it, they swear that it's vegan. Tarragon Dijon - features a fresh mustard zing with a hint of tarragon. Perfectly Plain - One of their newest flavors of Kale Krunch that is just plain and simple. Chockalet Chip - features an anti-oxidant rich heirloom cacao powder mixed with pumpkin seeds and kissed with coconut palm sugar. In each bag you'll find a satisfying crunch that even kids will love. Hibiscus and Pink Peppercorn - is a peppery but sweet chip highlighted by the bite of pink peppercorn then smoothed over by the pleasantly soft floral taste of hibiscus flower. If you're in the mood for something different or feeling particularly adventurous today, give this one a try!