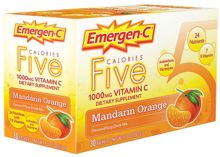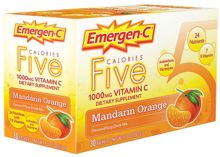 Alacer Emergen-C Five Calorie Mandarin Orange 30 Packets
Product Label
1000 mg of vitamin C, zinc, quercetin, and antioxidant support your immune system.
7 B Vitamins including, B1, B2, B3, B6 and B12 enhance energy naturally- no caffeine, no crash.
Great for post-workout, replace key electrolytes lost through perspiration.
Directions
Ages 14 and up, one packet up to 2 times per day. Empty contents into a glass, add 4-6 oz. of water, stir. For lighter flavor, mix with more water.
Does Not Contain:
Caffeine