Quick Links to Our Prices Price History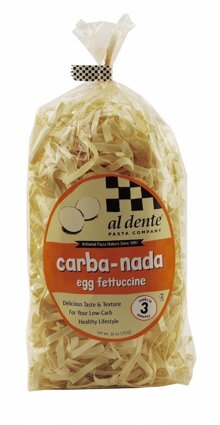 Al Dente Carba-Nada Fettucine
Al Dente Carba-Nada Roasted Garlic Fettucine Noodles Description
For Your Low-Carb, Fit & Healthy Lifestyle!
All-Natural
Kosher
You really can have your pasta and eat it, too! A little pasta tossed with lots of other healthy ingredients is so nutritious, good and satisfying. Here's to your low-carb, fit and healthy lifestyle!
Monique
Directions


Simple cooking directions:

Add pasta to large pot of boiling, salted water; Stir. Test in 5 min. (Pasta should be al dente, "tender but firm") Drain. Toss with butter, oil or sauce.