Warning: This product is not currently available at any store.
Click the button above and PricePlow will email you when the first store has it in stock!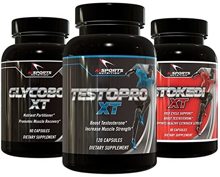 AI Sports Nutrition Swole Stack
TestoPRO
In order to bring to the supplement industry a straight to the point, and HIGHLY effective testosterone booster, Anabolic Innovations presents TestoPRO™.
What is so special about TestoPRO™? Well for starters, it contains an ingredient that had been clinically suggested to raise testosterone, in humans!* What is this ingredient you ask? It is nothing else but Testofen™.
Testofen™ is an extract of fenugreek seed containing the steroidal saponins, sapogenins and furostanol saponins , which are important precursors for the synthesis of a number of sex hormones.* This extract has been suggested in human studies to raise free testosterone (the biologically active form).* Just as important, not only does Testofen™ boost free testosterone, but it also aids in fat loss.* Not only did the participants in the study have significantly raised testosterone, they also didn't gain any weight.* I know. You want muscle, right? You will like hearing this. Skin fold thickness was measured at the beginning of the study, as well as the end of the study, at both the triceps and thigh regions. On average, participant's skin fold thickness was reduced at both the triceps and at the thigh, while maintaining body weight.* What does that mean? Only that while losing a substantial amount of fat in the skin fold thickness, participants gained an equal amount of muscle.* So they were losing fat and gaining muscle mass, at the same time!* Blood Urea nitrogen levels were significantly reduced after consumption of Testofen™.* This shows reduction in protein catabolism.* This confirms muscle mass build up during the study while skin fold decrease took place.* Learn More
Stoked
Trans-Resveratrol - This compound is like sliced bread to the supplement industry. There are many different health benefits to come from resveratrol, but we picked it up for one in particular.* Resveratrol is capable of modulating estrogenic receptors as well as controlling aromatase, giving it that One Two Punch for healthy and normal estrogen control.*
Horny Goat Weed - Horny Goat Weed (HWG) is a great source of the natural testosterone supporter, Icariin.* Research on Icariin has suggested it to support circulating testosterone levels as well as support healthy reproductive organs, making it a great support for hypoandrogenic states.* On top of the natural testosterone supporting capabilities of icariin, it also has some very interesting metabolites.* In vivo research has suggested icariin to metabolize into icaritin and desmethylicaritin.* What's great about these guys is the fact that (like resveratrol) are very strong estrogenic receptor antagonists.*
Quercetin & Piperine - Icariin and Resveratrol do not have the greatest bioavailablity in all the land so we gave them a little help with Quercetin and Piperine. Quercetin is used because it is an effective natural inbitor of estrone sulfanase which degrades compounds like resveratrol.* This makes aids in absorption.* Piperine is another addition because it enhances the ability of your intestines to absorb nutrients and phytochemicals.* Additionally, piperine may also reduce the effect of the glucuronidase enzyme, another enzyme which degrades resveratrol.* Learn More
Glycobol
Glycobol works, not like typical muscle gainers, but primarily by its ability to mimic and boost insulin.* On its own, insulin is a powerful growth peptide, but it also plays a critical role in the action of androgens. Just like insulin, androgens are another fundamental class of endocrine hormones. Studies suggest that androgens fail to sustain a positive muscle nitrogen balance in the absence of insulin, emphasizing the critical role of insulin as a potential limiting factor to the anabolic capacity of androgens. Therefore, Glycobol could be used to optimize and exaggerate gains by its essential synergistic contribution.* Learn More