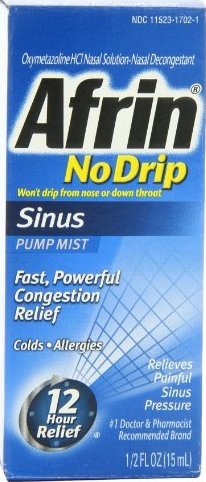 Afrin No Drip Sinus 12 Hour Pump Mist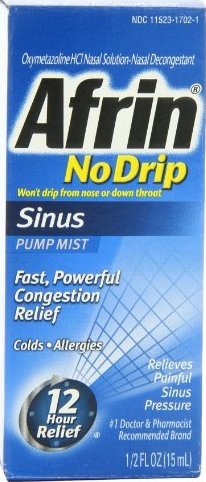 Afrin No Drip Sinus 12 Hour Pump Mist
Afrin Pump Mist 12 Hour No Drip Sinus Description
Oxymetazoline HCl - Nasal Decongestant
Won't Drip from Nose or Down Throat
Fast, Powerful Congestion Relief
Relieves Painful Sinus Pressure
#1 Doctor & Pharmacist Recommended Brand
Afrin No Drip is a breakthrough in nasal sprays.  It stays where you spray it without messy dripping from your nose or down your throat.  It contains a special blend of ingredients that soothes and moisturizes dry irritated nasal passages.  It starts to work in seconds, providing 12 hours of comfortable nasal congestion relief with no drowsiness.
Uses
Temporarily relieves nasal congestion due to: common cold; hay fever; upper respiratory allergies.
Temporarily relieves sinus congestion and pressure
Shrinks swollen nasal membranes so you can breathe more freely.
Directions

Adults and children 6 to under 12 years of age (with adult supervision):  2 or 3 sprays in each nostril not more often than every 10 to 12 hours.  Do not exceed 2 doses in any 24-hours period.
Children under 6 years of age:  ask a doctor.
Shake well before use. 
Before using the first time, remove the protective cap from the tip and prime metered pump by depressing pump firmly several times. To spray, hold bottle with thumb at base and nozzle between first and second fingers.  Without tilting head, insert nozzle into nostril. Fully depress rim with a firm, even stroke and sniff deeply. Wipe nozzle clean after use.
Disclaimer These statements have not been evaluated by the FDA. These products are not intended to diagnose, treat, cure, or prevent any disease.
Ingredient Facts