Quick Links to Best Prices Price History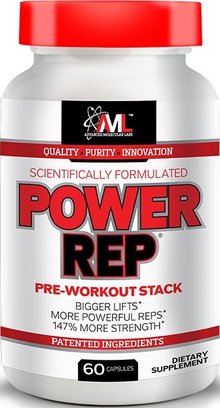 Advanced Molecular Labs Power Rep
---
Advanced Molecular Labs Power Rep | Power Through Workouts
AML Power Rep provides a boost that will provide endless

energy, mental focus and strength for your entire workout.

The three ingredients in AML Power Rep are theacrine,

ATP (adenosine-5-triphosphate disodium) and p-synephrine.

These ingredients have been specially selected based on

scientific research to increase energy while decreasing

fatigue, so that you can get the most out of your workouts.

Theacrine (a purine alkaloid found in kucha tea leaves)

has a similar chemical structure to caffeine, and it

triggers dopamine release in a similar fashion to

caffeine, improving arousal and motivation. This effect

was shown in an initial study where theacrine (as

TeaCrine) increased energy, diminished fatigue

and improved concentration, just like caffeine. However,

unlike caffeine, which can produce a tolerance after

as little as four days of consumption, theacrine use for

up to seven days showed no signs of desensitization.


Highlights of AML Power Rep:
Increase Lean Body Mass 100%
147% More Strength
Bigger Lifts! More Powerfule Reps
Scientifically Proven!