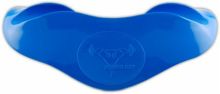 Advanced Fitness Manta Ray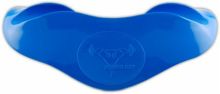 Advanced Fitness Manta Ray
The Manta Ray was developed to improve or eliminate problems we had with the squat exercise. We started by listing the things we thought were the negative aspects. Then worked for several years to address those issues with a small, simple device that didn´t take away any of the beneficial aspects. Tens of thousands of happy Manta Ray owners think we accomplished our goal. You can decide for yourself by taking advantage of our 30 day satisfaction guarantee.
Also, check out the Sting Ray for front squats.
The Manta Ray just Helps...
Your arms no longer have to support so much of the load to keep the bar from rolling off your back! Finding the center of the bar on each set is no longer a problem. Once you center and snap the Manta Ray to the bar you know your right in the middle, every set! Repairing trauma from that shearing force crushing muscle and nerves against bone is no longer wasting part of your body´s limited ability to recuperate from a workout! The bar no longer rests on the deltoids, or pulls the arms back. This eliminates much of the common squat related stress to the shoulder complex (which houses the injury prone Rotator Cuff Assembly)! The Manta Ray takes away that shearing pain in your neck so you can focus on the movement and watch your gains skyrocket!
Our patented load distribution device for the back squat exercise. Made from a hi-tech polyurethane polymer, it is virtually indestructible. Instead of the force concentrating in one small area, the Manta Ray increases the surface area by more than 1600% finally making it possible to focus on the movement. The front projections help keep the bar from trying to roll off your back. This allows most people use a more erect posture because it stops the body´s tendency to bend the lifter forward in an attempt to take the stress off the shoulders.
Additional Images:
Click to Enlarge
---
Question and Answers
Q: What is the Manta Ray made of and how does it snap to the bar?
A: It´s made of polyurethane and the bosses on top of the device are thin enough to snap onto the bar, but the body of the Manta Ray is thick enough to act as a load distributor.
Q: How does it rest on your back?
A: It transfers the load to the traps exclusively and doesn´t involve the shoulder caps. It´s a simple load distribution principle where the load is spread over as much as 1600% more surface area than the raw bar. It´s like comparing a bed of nails to a single nail.
Q: Will the Manta Ray fit any body shape or size?
A: Yes, it´s only about 12.5 inches long, so it doesn´t involve the delts. Since it sits only on your traps, it just sits on whatever traps you happen to have. Guaranteed.
Q: I understand that all weight bearing exercise stimulates a Growth Hormone release (and Growth Hormone makes your body want to store lean muscle tissue instead of fat) so what´s the big deal about the squat? Why not the leg press, hack squat, or Smith machine?
A: You´ve hit on the key issue here. When you suspend a weight over the entire body, that it´s unaccustomed to, it brings more of the bodies 600 plus muscles into play. They fire on and off like crazy, acting as stabilizers through the assent and descent to keep you from toppling over. This makes a wave of stress hormones wash through the system and that´s what stimulates the tremendous Growth Hormone release. No other exercise involves so many muscles, or stimulates anywhere near as much GH release as the free squat. That´s why it truly is "The King of Exercises".
Q: Is that why they say muscular gains come faster with the use of the Manta Ray?
A: That´s part of it. The other factors are, you´re more likely to throw on a couple more plates and less likely to ditch your last set when you can focus on the movement, rather than the discomfort. And since the crush injury is eliminated from the upper body, all your bodies ability to build new tissue goes right to the stimulated muscle fibers rather than wasting that effort on damage control.
Q: What is the warranty?
A: Three Years! Even in commercial gym or school use, so for an individual it´s really a lifetime investment.
Q: How long will it take before I receive my order?
A: 95% of the time, orders placed by 3:00 PM (Eastern Time, US) ship the same day, and single orders ship by Priority Mail (usually acts like a two day air).
Q: Can I buy this device in a store?
A: Maybe. It´s in hundreds of stores in the U.S., several in Canada and we also have distributors in other parts of the world. Click here to check the list [Stores]. The list is in Zip/Postal Code order (stores generally sell the Manta Ray for $44.90).
Q: What if I am not happy with the device?
A: You may return the Manta Ray within 30 days for a full refund of the purchase price. We want you to be completely satisfied.
---
Testimonials
A well thought out & designed training aid that should be a must piece of equipment for everyone. I have been training with weights for over 20 years & have never looked forward to the discomfort associated with squats & calf raises. After only 3 leg sessions with the Mantra Ray, I can honestly say that I am looking forward to my next leg workout. Thanks for one of the most needed & innovative pieces of equipment I have seen in the last several years." -Len Altamura Clearwater, Florida
"I never quite understood the famous architect Frank Lloyd Wright´s statement, "Structure defines function", until I was introduced to the Mantra Ray. Whether you are a beginner or advanced bodybuilder the Manta Ray is one piece of equipment you shouldn´t be without. Squats are one of the key exercises in any routine and the Manta Ray forces one to perfect their execution of this exercise. Using Manta Ray causes you to do a better squat while enjoying it more and you get out of it. What more could one ask for? Therefore, after thirteen years of receiving hundreds of products to review, (I am a Chiropractor with a special interest in Sports Medicine and Nutrition), this is the first time I wanted to endorse a product whole heartedly."
-Dr. Stevens Helschien, D.C. Columbia, Maryland
"I received my Mantra Ray a few weeks ago. It was definitely worth the wait! I use a Soloflex, which is otherwise a great machine. But doing squats was really painful on my neck. I had such discomfort at the seventh vertebrae that I was afraid of doing permanent damage. So I avoided squats. With the Manta Ray, squats are now comfortable and fun. I am doing a lot of them now, and can already see and feel the difference in my legs. Thanks for a great product!"
-Paul Dupre Brea, California
"I can´t begin to tell you how much the Mantra Ray has helped my squatting. I have been weight training for 25 years and always hated squatting due to neck pain and cervical disc problems. My arms always go numb. The Manta Ray has solved my problem, of C7-T1 separation causing bilateral radiculopathy, (pinched nerve roots). My squatting has gone from 200-210 pounds with pain 350 pounds in two months, which I thought I would never do. Again Advanced Fitness, Inc., Thank You!"
-Dr. Phil Bammer, D.C. Louisville, Colorado
Experts Speak
"...If you´ve ever felt vulnerable to injury -- or just flat out uncomfortable -- doing squats, the Manta Ray will give you a whole new perspective on the king of the mass movements and help produce the quality quad size you´ve been lacking."
-Steve Holman, Senior Editor IronMan magazine, and author of many IronMan Books.
"...I highly recommend the Manta Ray for those who want to do a proper squat and prevent injuries!"
-Bob Delmonteque, 50 years of personal training & author of Lifelong Fitness, (Warner Books)
"It´s foolish to subject the spinal column to long term compressive force needlessly. Not to mention crushing muscle and overloading the shoulder complex. The Manta Ray solves these problems very effectively!"
-Dr. Robert porte D.O.
"The Manta Ray is a must-have device. The anatomic benefit of even weight distribution substantially reduces neuromuscular trauma to the spine, shoulder girdle, and arms. The superior stability provided by the device ensures proper lifting form and technique, further enhancing the significant physiologic impact of the Manta Ray!"
-Dr. Bruce Panasuk M.D., Thoracic and Cardiovascular Surgeon
"If you love squats but hate all that lousy neck pain you have to put up with... give this Manta Ray(tm) thing a try... you´re in for a treat!"
-Larry Scott Mr. Olympia (1965-6), Author, and expert in exercise physiology.
"...Forget about wrapping the bar with a towel, throw out the foam. The Manta Ray is the only true protection anyone needs!"
-Tony Vargas owner (Physique Plus) and specialist in cervical and lumber injuries.