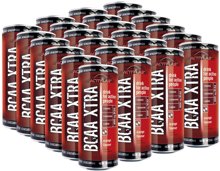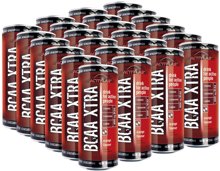 muscle & strength
DRINK FOR ACTIVE PEOPLE
BCAA Xtra Drink is a functional sports drink containing branch-chained amino acids(L-leucine, L-isoleucine, L-valine). BCAA's constitute about 35% of exogenous amino acids necessary to build muscle protein, and nearly 50% of amino acids that must be supplied with food. Every tin of BCAA Xtra Drink contains 4000 mg of branched chain amino acids in the optimal proportion: Leu/Iso/Val = 2:1:1. The BCAA Xtra supplement is recommended during any excessive physical effort as a dietary supplement improving overall quality of strength training and regular recreation.
0 CALORIES
Sugar Free 2000mg
L-LEUCINE 1000mg
L-ISOLEUCINE 1000mg
L-VALINE
Strict quality control procedures, from raw material to finished products ensure premium quality.
ABOUT ACTIVLAB
Activlab is a rising global leader in pioneering innovative food technologies offering an extensive line of sports nutrition, functional foods and beverages for healthy living, fitness and peak athletic performance. The Activlab team of nutritional scientists are dedicated to healthy living and with the synthesis of science and nature provide products uniquely formulated with nutrients for your lifestyle, health and fitness goals.