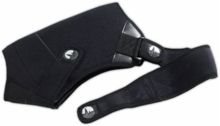 Active Wrap Shoulder Wrap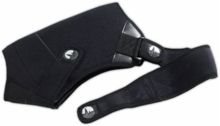 Active Wrap Shoulder Wrap
Additional Images:
Click to Enlarge
Treat all aspects of the shoulder with this versatile thermal compress wrap. Designed for injury specific adjustabilty and full freedom of movement during usage. Total comfort for any size shoulder, big or small. Just slip it on and start treating! The ActiveWrap shoulder system is the nicest fitting shoulder ice wrap on the market! Unique rotator cuff strap design drives the cold to where you need it. This much anticipated model is a must have for rotator cuff injuries and any shoulder dependent or throwing athlete!
The ergonomically designed shoulder heat & ice wrap wrap delivers lightweight conforming hot or cold therapy to all areas of the shoulder. Every wrap is outfitted with two pockets that hold our uniquely formulated heat and ice packs.Use one pack at a time or cover your entire shoulder complex after your next workout with both!
Technical Specs
Includes the ActiveWrap compress support and two large reusable 7"x10" heat & ice packs packaged in a handy nylon drawstring storage bag. The finest shoulder ice wrap on the market.
"NEW" Specially formulated gel-matrix thermal packs that prevents the cold gel from pushing away from the injured site. ActiveWrap´s unique rotator cuff compression straps drive cold to exact areas of the shoulder providing proper coverage to where you need it most.
Active medical plush material with smooth lycra lining creates the shoulder sleeve design for comfort and easy application.
Smooth vented neo-lycra underarm for great stretch and breath-ability
PVC leather trim with nylon webbing for lasting durability
Dual plush-prene strap fastens and adjusts to fit snug for a wide range of sizes. Universal for both left or right shoulder.
Lycra trim and flat-loc stitching throughout entire ice wrap.
Latex Free, Washable, and Reusable.