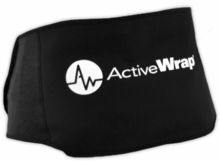 Active Wrap Mid-Low Back Wrap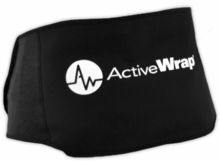 Active Wrap Mid-Low Back Wrap
Important Shipping Information
ActiveWrap products will be shipped separately from the supplier and may take up to 5 business days for delivery. Trust us - it's worth the wait!
Additional Images:
Click to Enlarge
The ActiveWrap Mid-Low Back Heat/Ice Wrap features extreme comfort, and adjustment. Complete with a specially formulated non-migrating 7" x 10" hot/cold pack and a durable compression wrap. This back pain modality features Active Medical Plush fabrication to lock in the body's natural warmth when used for soothing heat therapy, while insulating and keeping the cold in during cold therapy applications. Ventilated side panels ensure breathability during long duration use. The ActiveWrap Back Ice Wrap | Back Heat Wrap demonstrates superior quality compared to typical back ice wraps or foam fabric ice wraps. This is a low profile wrap that can be worn under clothing and during sport, such as golfing etc. This is not a rigid or stiff back brace.
Complete back pain therapy system includes:
Back support wrap
1 Large 7" x 10" hot & cold pack
Protective cover
Drawstring storage bag
How to Heat and How to Cool Your ActiveWrap Packs
For Cold Therapy Use:
Place ActiveWrap thermal packs flat in freezer with nylon pouch for minimum 2 hours before using (small packs) or 4 hours for large size packs. When ready to use remove from freezer and let stand for several minutes prior to use. Ice down for max of 15 minutes per treatment. Extended time does not equal better results. You only have to remove the pack from the nylon sleeve for heating otherwise simply toss in the freezer pouch and all for total convenience.
Slide pack behind divider for less cold or place in front for more cold. Pack is then tucked neatly away under the envelope fold. The DLP design provides up to a 5-degree F variance. Sensitive skin individuals and/or elderly patients should opt to ice with a thin paper towel or fabric between skin and the pouch. Also if you are icing an area that is typically leaner on skin, muscle, or fat tissue, use additional caution and take care not to lean your body weight against the pack during use for prolonged periods of time.
For Heat Therapy Use:
Remove pack from nylon sleeve and immerse in a shallow microwave safe container filled with warm/hot water (enough to cover the pack). Heat 45 seconds in microwaves of 1200w or higher. Reheat in 10 sec intervals to achieve desired temp up to a max of 1.5 minutes.
Pack DOES NOT need to be extremely hot in order to be effective as it works in conjunction with wrap and body heat. Upon removing from microwave, empty hot water out and test pack for heat following all precautions as per each pack. Since microwaves vary, more or less time may be required to heat to desired temperature. Increase or decrease in intervals of 10 seconds.
Moist Heat Option- add a folded wet paper towel and insert into pouch between nylon and the pack. When using the DLP this is a nice feature as you can slip the paper towel in the top slot closest to skin and slip a heat pack underneath the moist towel in the bottom slot.
Non-Microwave Alternatives- Place packs (without the nylon cover) in hot water for 7-8 minutes' time. Do not heat over an open flame or boil. Remove from water, test heat and insert into nylon pouches.
Note: Overheating pack will reduce the lifespan of the product. Replace ActiveWrap packs every 2-3 years depending on usage.