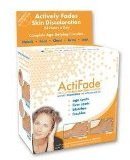 ActiFade Complete Age Defying Complex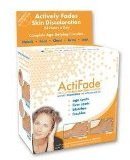 ActiFade Complete Age Defying Complex
Actively Fades Skin Discoloration - Medicated for all skin types - 24 Hours a Day**
Cream 2 oz (57g) Three concealers 0.20 oz (5.7g) each

Hands | Face | Chest | Arms | Legs

Actively diminishes the appearance of:

Age Spots
Liver Spots
Blotches
Freckles

Actively Lightens Discoloration. Gradually fades dark brownish pigments in the skin, such as age spots, liver spots, freckles, and blotches while providing targeted toning balance for sensitive areas of the skin.  Thorough, yet gentle enough to use 24 hours a day.

Radiates your skin. Rich with vitamin C, one of the most powerful antioxidants found in nature, the Actifade™ Complex promotes a youthful luster in your skin.

Heightens Healthy Appearance. To further promote a healthy look and feel in your skin, the Actifade Complex contains Shea Butter, an all-natural botanical extract, said to firm and soften skin.

For external use only.
Avoid contact with eyes.  If concealer enters eye, flush thoroughly with water. Do not use on children under 12 years of age unless directed by a doctor
Do not use on cracked, irritated or inflamed skin
Some users of this product may experience a mild skin irritation. If skin irritation becomes severe, stop use and consult a doctor.
If pregnant or nursing, seek the advise of a health professional before using
Keep out of reach of children
If swallowed, get medical help or contact a Poison Control Center right away.

*Complex includes skin lightening cream & concealers
**24 Hour coverage based on twice daily applications.

* These statements have not been evaluated by the Food and Drug Administration. This product is not intended to diagnose, treat, cure, or prevent any disease.