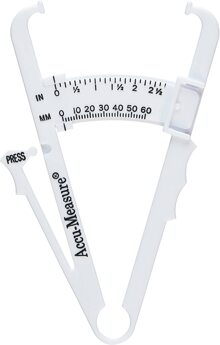 AccuFitness Accu-Measure Bodyfat Calipers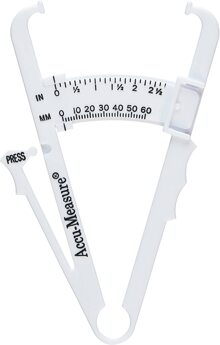 AccuFitness Accu-Measure Bodyfat Calipers
Doctors, personal trainers, and nutritionists recommend the periodic measurement of body fat for maintaining proper health status. Enjoy the ability to measure body fat easily by yourself, in the privacy of your own home, with the reliability and accuracy that is expected of today's registered medical devices. Recommended in Body-for-LIFE and endorsed by the World Natural Bodybuilding Federation, Accu-Measure Personal Body Fat Testers have gold standard accuracy to within 1.1% of underwater weighing results!
Documented Accuracy
A clinical study published in the Journal of Strength and Conditioning Research by the National Strength & Conditioning Association and independently funded by EAS showed that:
Self-testing of % body fat with the Accu-Measure was as accurate as results from multi-site measurements and calculations taken by an experienced clinical investigator using a Lange caliper.
% body fat calculations with the Accu-Measure were within 1.1 percentage points of underwater weighing results, the gold standard of body fat measurement.
Each Accu-Measure Fitness 3000 Model Comes With:
An original Accu-Measure Personal Body Fat Tester
Body Fat Measurement Instructions
Men's and Women's Body Fat Measurement Charts
Body Fat Tracking Charts with the Right Way to Weigh
Questions and Answers on Body Fat and Calipers and Body Fat Tips
Body Fat Q&A
Why is body fat important?
The primary purpose of body fat is the storage of energy to be used by muscles. Subcutaneous fat (under the skin) also helps provide warmth and protection for our bodies. Internal fat helps support and provide protection for the spinal cord, heart and vital organs. Body fat is also crucial in the utilization of vitamins A, D, E, and K by the body (these vitamins are fat soluble). In short, you wouldn't be able to survive without some body fat. The real problem isn't body fat, it's excess body fat.
Isn't the Body Mass Index a better measurement indicator for body fat?
Body Mass Index, or BMI, is simply a correlation between a person's height and weight. BMI does not measure body fat. Just like any bathroom scale, BMI cannot distinguish between people who are heavy with fat and those who have a large amount of muscle. Since muscle weighs more than fat, BMI could give you a wrong result. One could start a fitness program, trim inches off one's waist, maybe even add a few pounds of muscle. BMI would go up, but you could actually be in better shape!
What are some of the health risks with having too much body fat?
Excess body fat is associated with increased chances for heart disease, high blood pressure, high cholesterol, diabetes, stroke, and some cancers. Emotional health and well being are also unfortunately often at risk due to societal pressures on being thin.
Can you also have too little body fat?
Yes. Just as with having too much body fat, there are also health risks associated with having too little body fat. Some of these include hypothermia, vitamin toxicity, and cessation of menstrual cycle and osteoporosis for women. Remember, some fat is necessary. The fat which surrounds the spinal cord, heart, and vital organs is called "essential" fat and is necessary to sustain life. As people age, essential fat makes up approximately 9-10% of total body weight in females and 2-3% in males. The difference in the amount of essential fat between men and women is due to reproductive and hormonal factors.
Does testing body fat percentage mean weighing is not important?
No. But you should think of the information that the scale gives you in a different way. The reason a scale is often criticized is because by itself, it can't differentiate between fat or muscle and can only tell you a very small part of the story. When combined with a body fat test, however, your scale becomes much more meaningful. By simply multiplying weight by body fat percentage, you can determine the pounds of fat and pounds of lean body mass. This allows you to make sure that any pounds lost are from fat, not muscle. With regular exercise (which is an absolute must to lose body fat), you may find that losses in fat are offset by gains in muscle and the scale might not show a change. When combined with a body fat test, however, you'll see that you are on the right track and indeed losing fat and improving the fat/muscle ratio. The same applies in cases where women may retain water weight temporarily before menstruation, yet still be losing fat. By using the scale along with the Accu-Measure Personal Body Fat Caliper, you get the whole story. You'll know the quality of your weight – as well as the quantity
Accu-Measure Personal Body Fat Caliper Q&A
What are the Accu-Measure Personal Body Fat Calipers made of?
Accu-Measure Personal Body Fat calipers are manufactured with Delrin, a thermoplastic polymer from DuPont. Delrin products have gained widespread recognition for performance reliability in thousands of products used worldwide in consumer goods, healthcare, transportation, appliance, industrial machinery, and electronics industries. Delrin enables our Personal Body Fat calipers to last through thousands of uses and for Accu-Measure to stand behind its accuracy, durability, and consistency.
Is the Accu-Measure Personal Body Fat caliper patented?
Yes. The United States Patent and Trademark offi ce awarded the patent to Accu-Measure in 1992 for a skinfold caliper for an individual to accurately and inexpensively measure one's own body fat. We also have patents in Canada, France, Germany, Spain, Italy, and the United Kingdom. Unique, patented features include an audible and a tactile "click" when the predetermined pressure level is reached for accurate body fat measurement. The "click and feel" approach help an individual generate accurate, repeatable, and reliable results.
What is the significance of the "click" and "slide" mechanisms on the Accu-Measure?
The click and slide features are designed to take any guesswork out of measuring body fat. The click mechanism ensures that you pinch the skinfold with a consistent and uniform pressure each time you measure. The slide apparatus gives an automatic readout of the measurement by stopping at the correct measurement reading once the right amount of pressure has been reached via the click mechanism. In practical terms, all you have to do is place the jaws of the Accu-Measure over the skinfold and squeeze.
Aren't electrical body fat testers more accurate?
Absolutely not. Electrical body fat testers send a low-voltage current through the body. These electrical impedance devices measure how much body tissues impede or resist the fl ow of electrical current. They do not measure actual body fat content. According to the New York Times, "an impedance result for someone will not accurately predict body-fat content unless it is compared with the results of people who are similar in various ways like age, weight, sex, height and athleticism and who have also been tested with some more accurate measuring tool." Other factors affect impedance such as body positioning during testing, hydration status, recent consumption of food and beverages, ambient air and skin temperatures, and recent physical activity.
How does the Accu-Measure determine your total body fat by measuring the suprailliac site?
Measuring the fat content at a particular site on your body to determine your total body fat is a matter of "sampling". Just as a doctor can do a complete blood profile with a small sample of blood, it is possible to determine total body fat from measuring the fat content at a representative site on the body. After using underwater weighing (the gold standard) as the criterion to determine the total body fat on thousands of men and women, experts were then able to use skinfold calipers to determine particular "sample" sites where fat content correlated highest and was most representative of total body fat; the suprailliac being the top site.
Should body fat be tested at a health club or clinic to see how their results compare with the Accu-Measure?
No reason to. Remember, the Accu-Measure has been found to be closer in accuracy to the "gold standard" underwater weighing than any other method. Body fat tests at a health club or clinic, are costly and inconvenient. With methods such as bioelectrical impedance, other calipers, and even underwater weighing, you risk the possibility of different "testers" using different equipment, techniques, and procedures each time a test is performed which can greatly affect accuracy and reliability. Numerous studies have shown that one person's body fat test results can vary greatly depending on these variables. With the Accu-Measure, you are in control of all of these variables - you perform the test using the same instrument in the same manner. By eliminating the variables which can affect accuracy and reliability, the Accu-Measure actually has a technical advantage over methods used in a health club or clinic.
How often should body fat percentage be tested?
If you're happy with your current body fat percentage, a test every month or so will tell you if it's being maintained. If you're trying to lose body fat, you should test weekly to make sure fat is being lost, and not muscle. Daily body fat tests aren't necessary simply because fat doesn't disappear overnight.