Warning: This product is not currently available at any store.
Click the button above and PricePlow will email you when the first store has it in stock!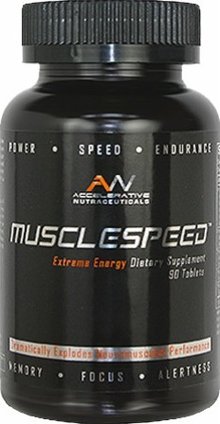 Accelerative Nutraceuticals MUSCLESPEED
MUSCLESPEED™ is a cognitive and neuromuscular promoter, taken pre-workout, by fighters and extreme sport athletes.* Take MUSCLESPEED™ 1 hour before training or competition and support power and speed.* May help to support a smooth rush of energy and focus coming on 45 minutes of the first dose and up to 4-5 hours at a time!*
What Does It Do?

Promotes contractile force*
Speeds reaction time*
Supports hand-eye coordination*
Provide support against fatigue*
Buffers lactic acid*
Supports weight-loss*
Helps build lean and strong muscles*

Promote neural transmission*
Supports key neurotransmitter levels*
Encourage focus and mental clarity*
Promote alertness*
Supports mental and physical energy
Provides a sense of well-being*
Helps promote a healthy, normal appetite*
Finally, a supplement designed especially for fighters and high-performance athletes. Take MUSLCESPEED™ to support your contractile force: Potentially strike faster, hit harder, and watch your opponent move as if in slow motion.* Use only if your sport involves rapidly generating explosive power, speed and agility in movement, and the capacity to go all-out over extended periods of time. Try it and feel your energy and physical strength surge into the stratosphere.*
How Does It Work?
By supporting the production and release of 'wonder' neurotransmitters known as Epinephrine, Norepinephrine, Dopamine and Acetylcholine, your muscles may respond with more contractile intensity.*
MUSCLESPEED™ contains ingredients that have been suggested to support levels of these neurotransmitters.* They are critically important if you are to excel at mental and physical tasks.* Regardless of your chosen discipline, without an adequate supply of these, your training may suffer.* Imagine what can happen during competition if your are lacking in either one of these! Proper supplementation may prevent deficiencies, support faster reflexes, stronger muscles and more endurance than you ever thought imaginable.*
What they are and why they're important.
Epinephrine/Norepinephrine
Epinephrine is a hormone and neurotransmitter. When produced in the body it increases heart rate, contracts blood vessels and dilates air passages and participates in the "fight or flight"response of the sympathetic nervous system. When these are released, your muscles contract with explosive force!* Epinephrine is produced only by the adrenal glands from the amino acids phenylalanine and tyrosine. Both of these amino acids are abundantly available in MUSCLESPEED™.
Norepinephrine affects parts of the brain where attention and responding actions are controlled.* Along with epinephrine, norepinephrine also enables the fight-or-flight response, directly increasing heart rate, triggering the release of glucose from energy stores, and increasing blood flow to skeletal muscle.* The amino acid l-tyrosine is a precursor to dopamine, which is in itself a precursor of norepinephrine. Each dose of MUSCLESPEED™ may help to provide enough l-tyrosine to support mind and muscle.*
MUSCLESPEED™ contains Caffeine Anhydrous USP, Vinpoceptine, Capsicum and Bioperine™ which may help to support the release of epinephrine and norepinephrine.*
Key benefits:

Supports the central nervous system.*
Promotes the supply of oxygen and glucose to the brain and muscles.*
Supports blood flow to skeletal muscles, keeping up with physical demands.*
May provide support against muscle fatigue allowing for more continuous physical effort.*
May support a rise in cAMP (Cyclic Adenosine Monophosphate) which may promote lipolysis allowing the body to metabolize lipids and melt fat.*
Supports a positive mood, cognition, focus, and awareness which may result in a heightened mental state.*
Dopamine
Dopamine is commonly associated with the pleasure system of the brain, providing feelings of enjoyment and motivation.* MUSCLESPEED™ may help optimize dopamine levels, allowing the athlete to perform at his peak.*
Key benefits:

Supports mood, cognition, attention and motivation.*
Promotes alertness allowing athletes to be on top of their game.*
Is linked to executing smooth and controlled movement.*
Acetylcholine
Acetylcholine plays a very important role in stimulating skeletal muscle contraction. Specifically, acetylcholine binds to receptor sites on the muscle fiber membrane which, with the help of a sodium ion, causes the muscle fiber to contract. Without acetylcholine muscles will not contract. MUSCLESPEED™ supports both the synthesis and release of Acetylcholine and extends its functional life by inhibiting the enzyme acetylcholinesterase (AChE) from breaking it down.*
Key benefits:

In the peripheral nervous system, acetylcholine activates muscles fibers.*
Supports rapid and effective transmission of neural signals.*
Promotes brain function, concentration, and memory.*
Key ingredients prevent fast-twitch muscle fiber fatigue, which is associated with explosive movement, and attenuate fatigue in endurance-trained athletes.
Beta-Alanine supports carnosine concentrations mainly in type II muscle fibers.* These are the "fast-twitch"fibers that are so important for explosive sports, such as sprinting and weight training.* This is largely accomplished by its ability to slow down the increase in H+ (hydrogen ions) which cause a lowering of our muscles pH (more acidic) and causing performance to degrade.* Essentially, carnosine acts as an intracellular buffer allowing muscles to continue to contract forcibly for a longer period of time.*
N-acetylcysteine (NAC) enhances muscle cysteine and glutathione availability and provides support against fatigue during prolonged exercise in endurance-trained individuals.* It is known for its positive effects on muscle trauma caused by lifting weights or intense cardio training.* This highly bio-available form of L-cysteine assists in combating exercise-induced damage to muscle tissue, it may also help detoxify the liver, support connective tissue and aids in joint health.*
Performance enhancing matrices synergistically work at delivering more POWER and SPEED to your muscles.*
Ergogenic Matrices:

Proprietary FX1 Power Vita™ supports your ENERGY foundation*
Proprietary FX2 Thunder™ ignites raw PERFORMANCE*
Proprietary FX3 Lightning™ promotes neural transmission*
Proprietary FX4 ROS Defense™ provides support against cellular damage and fights fatigue*
Proprietary FX5 Speed Stream™ optimizes absorption and supplement effectiveness*
Why Is This Product Different?
Discover why this unique product helps you dominate in your sport...
Designed especially for fighters and other extreme athletes, this 'neuromuscular accelerator' was formulated to support the activation of muscle fibers with every dose.*
It supports intensity by way of power and speed.*
When surpassing your usual training intensity, the body triggers an adaptive response by entering an 'anabolic' state. Muscle then hypertrophies in response to greater physical demand. MUSCLESPEED™ is the means by which your muscles may help provide support for the extra contraction, and therefore the intensity, required to achieve an anabolic state.*
It comes in convenient and easy to ingest tablets.
Find your optimal dose with the new scored tabs. They can be broken in half to perfectly fine tune your dose. Ingesting tablets is simply the most convenient way to take the product. Many supplements are sold in powder form requiring mixing and more things to clean up! Toss a bottle in your gym bag and take 1 hour prior to training. Keep a bottle in your locker or at the office. It's the best way to stick to a supplementation program.
It's a highly specialized product.
If power and speed are what you're after, cut straight to the chase.* Take two tablets and let it rock your world.
By How Much Can I improve?
The plain truth.
Know that every individual is unique and responds a little differently. No product can guarantee 'how much' you can improve. We know people using MUSCLESPEED™ are experiencing results in the gym, the ring, and everywhere else.To get the maximum benefit out of your supplement, you must use it consistently. MUSCLESPEED™ does not stop working after the 'rush' has passed. Many of its ingredients work better with consistent use. After test driving this product for up to 90-days you are still not impressed, we will refund you every penny. No questions, no hassles.
Why You Need to TRY
A few good reasons why this product is worth trying!
MUSCLESPEED™ is especially designed for fighters and extreme sport athletes. The supplement emerged as a combination of nutritional science and a love for sport.
It's 100% Natural and manufactured in the USA. All manufacturing practices conform to the Good Manufacturing Practice (GMP) standards and requirements set forth in the Quality System (QS) regulations. These are promulgated under section 520 of the Food, Drug and Cosmetic (FD&C) Act and monitored by the FDA. Each batch is carefully controlled, measured, and tested following-which a certificate of analysis is issued.
All of the ingredients listed on our label have been the subject of multiple scientific studies. If there is no research to back it up, we simply don't use it. Fighters, Runners, Cyclists, and other athletes, who depend on explosive power, speed and endurance, may receive extra support from MUSCLESPEED™ when taken prior to intense exercise.*
Each dose contains significant amounts of ingredient to ensure that the product works for you. We jam-pack 2728.3mg of active ingredient into two tablets! The materials used are of the highest quality, purity, and potency.
The formula makes nutrients more bio-available. By increasing their absorption in the gastro-intestinal tract, it multiplies the effectiveness of the supplement which may allow athletes to perform better from a single dose.*
The supplement is designed to promote a mind-muscle connection.* Enhancing the intensity and duration of neural signals causes more muscle fibers to recruit and activate.* Performance starts with the mind and signals all the way down to the muscle.*
A growing and loyal following is developing among athletes specializing in high performance sport. These people have come to rely on the exceptional results delivered by MUSCLESPEED™.* If your current supplements aren't producing results, switch to a highly specialized product for your next workout, your next fight, or your next meet.
How Do I Take It?
Straight from our FAQ
Q. How much should I take?
A. Start your supplementation program gradually to assess your tolerance. Some individuals are sensitive to stimulants such as caffeine while others seem to tolerate them very well. Take 1 tablet (instead of two) and increase from there. To attain research significant doses, you must consume 2 tabs twice daily. We recommend at least 6 hours in between your first and second dose. Never exceed 4 tablets in a 24 hour period.
Q. What if I take more than the recommended dose?
A. DO NOT take more than 4 tabs/day. MUSCLESPEED™ is over-built and designed to work!* More intake will over stress your mind and body, not to mention your wallet. If you feel the need to take more, take this simple advice instead: Train more, train smarter, eat quality foods, get enough rest, feed your mind with something positive, or find something else to do.
Q. How long before it kicks-in?
A. Typically, you can start feeling some effects within 45 minutes of your first dose. To experience the best results, take the supplement 1 hour prior to training or your event.
Q. How long does it last?
A. All ingredients in the formula have different half-lives... If you take 2 tabs at 7:00AM, you can take your next dose at noon. Your last dose should be a minimum of 6 hours before bed-time.
Q. Does MUSCLESPEED™ need to be cycled?
A. Yes. You may supplement for 5-6 days and take a day or two off. On 'off' days it's advisable to consume a caffeinated beverage such as coffee as some people may experience caffeine withdrawal. After one month of steady use, take a full week off. You may continue using the supplement for up to 12 weeks after which we recommend that you discontinue use for two weeks or more.
Why is MUSCLESPEED™ the right choice for you?
Steroids aside, it's the fastest way to your athletic goals. No other product comes close to providing as much power and speed in a bottle. Offered in easy to ingest tablets, there is no excuse not to take your supplement.
This product was designed from the ground floor up with the assistance and feedback of athletes, qualified staff, and nutritional PhD's consuming endless hours of research for the benefit of elite athletes and other high achievers. It's engineered for SERIOUS use!
No matter what your discipline, or performance goals, MUSCLESPEED™ is sure to exceed your expectations. We do not use experimental sciences, unproven ingredients, or outright DANGEROUS substances. Only the best and proven ingredients go into every bottle.
Every supplement manufacturer is competing in a "new era"of supplement design and manufacturing. With competition so fierce, MUSCLESPEED™ is leading the pack for POWER and SPEED. Try it and be convinced.
References:
Berecek KH, Brody MJ (1982). "Evidence for a neurotransmitter role for epinephrine derived from the adrenal medulla". Am J Physiol 242 (4): H593-601. PMID 6278965
Cannon, W. B. (1929). American Journal of Physiology 89: 84-107.
Introduction to Autonomic Pharmacology. Elsevier International.
Arias-Carrión O, Pöppel E (2007). "Dopamine, learning and reward-seeking behavior". Act Neurobiol Exp 67 (4): 481-488. http://www.ane.pl/pdfdownload.php?art=6738.
Graham, TE; Spriet, LL (1991 December). "Performance and metabolic responses to a high caffeine dose during prolonged exercise". J Appl Physiol 71 (6): 2292-8. PMID 1778925.
Proc. R. Soc. Lond. B Biol. Sci 1910; 82:568-574
Med Sci Sports Exerc. 2006;38(3):578-85
Conlay LA, Wurtman RJ, Blusztajn JK, Coviella ILG, Maher TJ, Evoniuk GE: Decreased Plasma Choline Concentrations in Marathon Runners. N Engl J Med 1986, 315(14):892
Conlay LA, Sabounjian LA, Wurtman RJ: Exercise and Neuromodulators: Choline and Acetylcholine in Marathon Runners. Int J Sports Med 1992, 13:S141-S142.