Warning: This product is not currently available at any store.
Click the button above and PricePlow will email you when the first store has it in stock!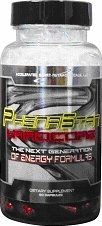 Accelerated Sport Nutraceuticals Phenastan Hardcore
Phenastan Weight Loss Pills
are now available and they are ready to help you lose weight, increase your energy levels and forget about ephedra . That's right, and ephedra-free diet pill that works, and Paramount-Supplements has it! Experience "jitter-free" energy without the unwanted crash that some "hardcore" supplements seem to leave you with. Just smooth, clean energy to get you going in the morning or to get you ready for that workout session.
Benefits from Phenastan Hardcore Include:
Pre-Workout and Fat Burning Results
Intense Workouts!
Intense Focus, Concentration, Mental Clarity and Alertness
Jitter-Free Energy with No Crashes
Boost in Energy Levels And Physical Performance
Advanced Multiple Pathways for Rapid and Effective Fat-Loss
Increased Vascularity and Pump
Enhanced Protein Synthesis and Elevated Testosterone Production
PhenaStan Hardcore includes the newest and most effective fat-loss compound, Methyl-Beta-
Methylphenylethylamine HCL, a lipolytic stimulant and intense workout initiator.
Phenastan Hardcore Blend Consists Of:
The synergistic blend consists of:
N-Acetyl L-Tyrosine
N-Acetyl-Tyrosine (NAT) is an acetylated form of the essential amino acid, L-Tyrosine. NAT is more water soluble, and is therefore, rapidly absorbed and bio-available. L-Tyrosine modulates that of neurotransmitter catecholamines such norepinephrine (noradrenaline), epinephrine (adrenaline) and dopamine, that are depleted by stress. So, NAT supplementation reduces the impact of stress and fatigue and elevates cognitive performance. The neurotransmitter-stimulation action of NAT further synchronizes with similar synergistic action from 1,3-Dimetylamylamine and caffeine (caffeine stimulates release of catecholamines and NAT modulates their synthesis), leading to enhanced thermogenesis and lipolysis.
Caffeine
Caffeine, a methylxanthine and popular stimulant, not only possesses lipolytic and appetite suppressant properties, but also helps to enhance endurance and extent the effect of other stimulants. As a CNS stimulant, caffeine works as an adenosine A1 and A2A receptor antagonist. This is significant because adenosine modulates the action of neurotransmitters such as dopamine, norepinephrine, and acetylcholine. By antagonizing adenosine, caffeine stimulates nerve-cell activity, creating enhanced alertness and clarity. Furthermore, caffeine inhibits the enzyme, phosphodiesterase (PDE), that breaks down cAMP. This PDE inhibition leads to sustained cAMP activity and boosting norepinephrine, thereby up-regulating thermogenesis and lipolysis. These pathways ensure caffeine traces a synergistic action with 1,3-Dimethylamylamine and other agents in Phenedrine, creating an optimally fuelled fat-burning furnace in your body.
1,3-Dimethylamylamine
Also known as Geranamine, 1,3-Dimethylamylamine is a derivative of geranium oil. As a potent fat burner, 1,3-Dimethylamylamine activates an enzyme, adenylate cyclase, that elevates cyclic adenosine monophosphate (cAMP) in cells, triggering fat metabolism. Furthermore, 1,3-Dimethylamylamine demonstrates potent central-nervous system (CNS) stimulation, leading to enhanced energy and physical performance, heightened focus and concentration. The user will experience a significant elevation in energy levels without the usual crash. 1,3-Dimethylamylamine is often combined with caffeine to further consolidate the heightened energy, intense concentration and focus.
Methyl-Beta-Methylphenylethylamine HCL
A remarkable compound, even in its pure form, Beta-Phenylethylamine (PEA), a catecholamine precursor and nutrient found in chocolate, is known to be a very clean stimulant with the remarkable ability to achieve central-nervous-system stimulation without producing nervousness or the jittery feeling. Like norepinephrine, the body's most potent endogenous fat-burning hormone, PEA acts on alpha-receptors in the brain, triggering the release of the "feel-good" hormone, dopamine (3,4-dihydroxy-phenethylamine) in neural cells. PEA is also responsible for effects on mood, sense of satiety, reduced food cravings, as well as increased metabolic rate (by modulating thyroid function). Also known as a neuromodulator, PEA promotes mental alertness, focus and concentration.
Yohimbe
Yohimbe is the only natural drug with enough credible evidence to be listed as a sensual stimulant and sexual booster in the Physician's Desk Reference. Thousands of Urologists in the U.S. and abroad have been recommending the drug forms of Yohimbe for years. Many studies have shown that Yohimbe Bark can help impotence caused by poor blood circulation.
White Willow Bark Extract is a natural form of asprin.
Salicin and other components of willow bark have fever-reducing, antioxidant, anti-inflammatory, and analgesic effects.
Yerba Mate Extract
Yerba Mate contains 27% more active nutritional compounds than green tea. Among these are: vitamins A, B, B2, Niacin (B3), B5, B Complex, C, and E. It also contains Calcium, Carotene, Chlorophyll, Iron, Manganese, Magnesium, Potassium, Phosphorus, Selenium, Zinc, Essential Fatty Acids, Flavonols, Polyphenols, Inositol, Antioxidants, Pantothenic Acid, Amino Acids, Saponins, too name a few. Yerba Mate is an excellent boost to your defense system, metabolism, brain and overall health. Yerba Mate is higher in antioxidants than Green Tea while energizing without the side effects associated with coffee and tea. It gives an energy that feels good. Energy that feels useful, lasts long and no "crash" at the end. Yerba Mate helps in weight management due to its thermogenic effect which causes the body to release excess calories as heat rather than storing them as fat.
Green Tea Extract
Green Tea Extract is made through extracting the chemical components of Green Tea through either a natural or chemical-assisted process, producing a very concentrated form of the ingredients that make this tea so special. The most important components in Green Tea Extract are Polyphenols and Epigallocatechin Gallate (EGCG). Both of these chemicals are called antioxidants. Antioxidants are very important in the body because they help eliminate harmful compounds that could cause damage in cells. By oxidizing certain compounds before the body does, these antioxidants remove those chemicals from the body safely before any damage is done. This detoxifying effect is even more significant in EGCG. EGCG is not only known for its antioxidant effects, but it is also used as an antibacterial, anti-carcinogen and cholesterol reducer. These effects are incredibly helpful in the body, and many physicians have begun promoting EGCG as a new miracle treatment for minor ailments (although it has not been approved in any official way).
Beta Phenylethylamine
Beta Phenylethylamine is a naturally occurring neurohormone/neurotransmitter (chemical signal messenger between nerves) that's normally synthesized in the brain from the amino acid phenylalanine. PEA has the unique ability to increase the activity of the major neurotransmitters and improve your life functions. PEA increases the effects of dopamine (for wellbeing and feeling pleasure ), norepinephrine (the brain's stimulant for wakefulness and higher performance), acetylcholine (for improving memory and mental activity), and serotonin (for better mood emotion and impulse control). PEA is a highly-concentrated neurotransmitter in the limbic system (the brain's emotional center) that increases motivation, physical drive, feelings and social activity.
Methyl Synephrine
Citrus aurantium (also known as Bitter Orange, Sour Orange, and Seville Orange) is a relatively small citrus tree about 5 meters tall with scented white flowers (Fugh-Berman and Myers, 2004). As the name implies, the fruit is quite bitter and for this reason, it is not commonly used for culinary purposes. However, the dried, entire unripe fruit of Citrus aurantium has been used as an Asian herbal medicine primarily to treat digestive problems. The use of Citrus aurantium or synephrine as a weight loss agent may be based on a study reporting that both synephrine and octopamine will bind to beta 3-receptors, thereby promoting lipolysis. Synephrine has alpha-adrenergic effects and also activates beta-3 receptors. These effects highlight the potential mechanism of action of this agent related to thermogenesis and lipolysis Methyl Synephrine ( a new form of synephrine ) has recently been developed . Methylation is a common term used in chemistry and biochemistry to denote the attachment or substitution of a methyl group onto various molecules. In doing so, the scientists who have engineered this compound suggest that the therrmogenic effects of synephrine are greatly amplified, yielding a profound effect on fat/weight loss. While anecdotal "in the gym" accounts of subjects using methyl synephrine have been noted as highly favorable, controlled testing of this novel methylated version is necessary before firm conclusions can be drawn related to its ability to function as a potent lipolytic agent.
Amla Fruit Extract
Amla Extract has been traditionally used for many chronic conditions including diabetes. Research has been done with amla evaluating its role as an antioxidant, in ulcer prevention, for people with diabetes, for mental and memory effects, and its anti inflammatory properties.
Phenastan Supplement Facts:
Serving Size: 1 Caps
Servings Per Container: 80
N-Acetyl L-Tyrosine 200mg
Yerba Male Extract 4:1 50mg
Methyl-Beta-Methylphenylethylamine HCL 50mg
Green Tea 50mg
Caffeine 225mg
Methyl Synephrine 25mg
Beta Phenylethylamine 75mg
Yohimbe 8% Extract 25mg
Geranium Extract 15mg
Amila Fruit Extract 25mg
Black Pepper Extract 10mg
Other Ingredients: Magnesium Stearate, Micro crystalline cellulose, Gelatin
Suggested Use:
For Best Results take 1 caps in the Am on an empty stomach caps 20minutes prior to cardiovascular activity
Warning:
Consult your physician before using this product contains caffeine. don't use or combine with other dietary supplements . Don not use if you have or are being treated for prostate hypertrophy oer cancer, heart or thyroid disease, high blood pressure, low hdl, taking anti depressants, MAO inhibitors, prescription drugs or any over the counter prescription drugs or any over the counter prescription drugs containing ephedrine or pseudo-ephedrine. Do not exceed suggested serving. Do not exceed 4 weeks of continuous use. So not use if pregnant or nursing . Discontinue use and contact your health care provider if you experience rapid heartbeat, dizziness, severe headache,shortness of breath, or similar symptoms, this product contains no Ephedra Alkaloids. Protect from Heat, Light, and moisture. Do not use if seal is broken keep out of reach of children.