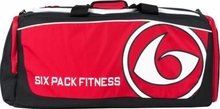 6 Pack Fitness Varsity Duffel 6 Pack Bag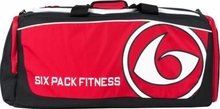 6 Pack Fitness Varsity Duffel 6 Pack Bag
Features Insulated Modular Core System Keeps Up To 5 Meals Organized And Accessible!
Additional Images:
Click to Enlarge
6 PACK FITNESS
BAGS, LUGGAGE, AND MEAL MANAGEMENT TRAVEL GEAR
---
VARSITY DUFFLE
FOR LONG PRACTICES AND COMPETITION TRAVEL DAYS
Carries up to three meals in an adjustable insulated core system that includes a zippered utensil pocket and standing room for a water/shaker bottle.
Preloaded with three independently accessible Snap Lid Containers.
Preloaded with Sports Nutrition Container for organizing supplement pills and energy bars.
Includes with gel packs to keep meals fresh for more than eight hours.
Deep main compartment holds clothing, workout gear, and personal items.
Snap Lid Containers are BPA/PVC free, and microwave-, and top shelf dishwasher-safe.