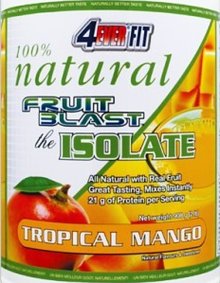 4Ever Fit Fruit Blast - The Natural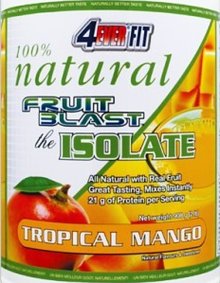 4Ever Fit Fruit Blast - The Natural
4Ever Fit´s Fruit Blast - The Natural is flavored with Real Fruit. You won´t find any artificial flavors, colors, or sweeteners in this protein. What you will find is an all natural whey protein isolate that uses a unique combination of cross-flow ultrafiltration and advanced microfiltration. This gentle process ensures that the proteins are not denatured and allows the whey proteins to be recovered in their natural proportions in the final product. Fruit Blast - The Natural delivers a high Branch Chain Amino Acid (BCAA) profile and is rapidly absorbed for powerful and effective lean muscle gain support.* Each serving contains 21 grams of protein, zero trans fat and only 6 grams of carbohydrates. It´s perfect for any low-carb diet plan.
Fruit Blast - The Natural supplies your body with whey fractions that include glycomacropeptide, alpha-lactalbumin, beta-lactoglobulin and immunoglobulins. These valuable fractions may help support immune system function, assist recovery and boost essential amino acid content.* Low in calories and lactose, Fruit Blast - The Natural should be appropriate for anyone with milk allergies.
One of the best-tasting protein also mixes with a spoon. Mix one or two scoops of Fruit Blast - The Natural with cold water to make a delicious and refreshing protein drink. Use milk or juice to create a thicker smoothie-style drink. Fruit Blast - The Natural is completely soluble, so there´s no need for a blender or any messy clean-up. Scoop, mix and enjoy! Who knew staying fit could taste this good?