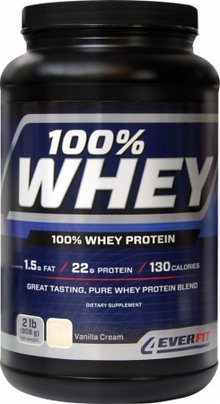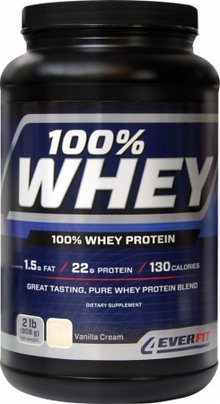 Due to the weight of this product extra shipping charges may apply.

Whey Protein by 4Ever Fit uses a unique cold cross-flow ultra filtered and advanced micro filtered whey isolate protein blend. This provides maximum nutrient utilization, with no digestive system upsets that can be caused by lower quality proteins. Each serving is low in calories and lactose, and should be appropriate for anyone with milk alergies.

4Ever Whey Protein uses a specifically designed 4EVER Protein Blend that provides the highest Branch Chain Amino Acid (BCAA) profile with rapid absorption for powerful and effective lean muscle gain.Each serving contains 24 grams of protein, ZERO trans fats and does not contain any added carbohydrates, making it perfect for any low carbohydrate diet plan.

4Ever Whey Protein is completely instantized, so there is no need for a blender or any messy clean-up. Scoop, mix and enjoy! Who knew staying fit could taste this good?

Supplement Facts:
Serving Size 1 Scoop
Servings Per Container 73

Amount Per Serving % DV

Calories 120 -

Calories from Fat 14 -

Total Fat 2 g 2%

Saturated Fat 1 g 5%

Trans Fat 0 g -

Cholesterol 45 mg 15%

Sodium 85 mcg 4%

Potassium 220 mg 6%

Total Carbohydrate 5 g 2%

Sugars 5 g -

Protein 22 g 44%

Calcium 165 mg 17%

Iron 0 mg 2%

*percent Daily Values are based on a 2,000 calorie diet.

Ingredients:
Whey Protein Blend (Whey Protein Concentrate, Whey Protein Isolate, Whey Protein Hydrolysate), Citric Acid, Xanthan Gum, Soy Lecithin, Natural And Artificial Flavors, Natural Color (Gardenia Extract), Sucralose, Acesulfame Potassium.

Suggested Use: Mix 1 scoop of 4EVER WHEY per 6-8 ounces (250ml) of water. Use more or less water to reach desired taste.

Notice: Use this product as a food supplement only. Do not use for weight reduction.

* These statements have not been evaluated by the Food and Drug Administration. This product is not intended to diagnose, treat, cure, or prevent any disease.