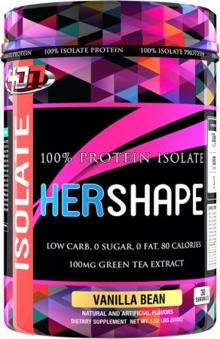 4 Dimension Nutrition Her Shape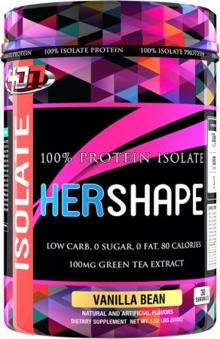 4 Dimension Nutrition Her Shape
4DN
---
HERSHAPE
4DN HERSHAPE NUMBERS:
18g
Muscle Shaping Protein Per Serving
24g
Ultra Premium Whey Protein Isolate
100g
Green Tea Extract Per Serving
0
Trans Fats, Fillers or Unwanted Ingredients
Yes you go to the gym! Yes you lift weights! Yes you want to increase muscle so you can look tighter, leaner and more defined! And yes you are a woman and you're not the only one on this path to excellence! Introducing the ultra premium 100% whey protein isolate HER SHAPE protein supplement from 4 Dimension Nutrition. Engineered by the leaders in advanced sports nutrition, the 4DN research team worked long and hard to develop a protein formula with a precise combination of effective and cutting edge ingredients to help improve lean muscle growth when combined with your workout plan.* More lean muscle is exactly what you need to get that tight sexy look that you work so hard for in the gym! To ensure each and every delicious serving of HER SHAPE protein delivers on its promise, it's fortified with 18 grams of 100% pure whey protein isolate per serving with only 1 gram of carbs and virtually zero fat! Not many other protein sources on the planet are as pure and fast absorbing as whey protein isolate so you can guarantee you're getting the best of the best! Plus, each serving of 4DN HER SHAPE protein contains a calculated dose of the powerful Green Tea Extract to supercharge your results!* Working with leading protein flavor experts, the 4DN research team tested countless prototypes to ensure that every serving tasted like a gourmet milkshake!